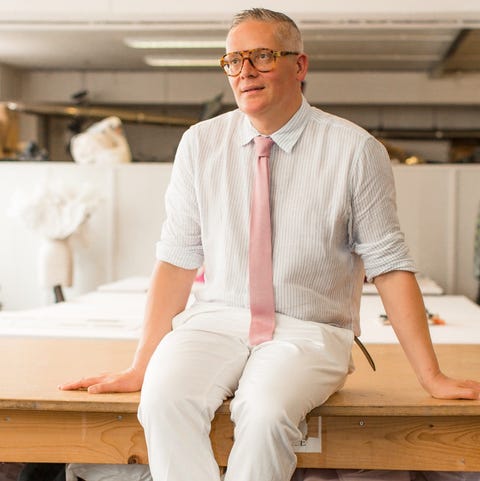 Giles Deacon is one the most renowned British designers in the industry, having worked at the likes of Gucci and Bottega Veneta. His experiences are unparalleled: Deacon's done everything from ready-to-wear to couture and bespoke clothing, the latter of which he creates for private clients. Perhaps one of the most famous of those clients: Pippa Middleton. Deacon designed her wedding dress.
"It was a great privilege to receive the commission," he shares. "You never know how the public will react when you put your creation out there, as much as you yourself loved it. So for the dress to be so globally recognized was just phenomenal."
Though Deacon was mum on the exact details of Pippa's bridal look (stars like their privacy), he tells me that he was there every step of the way for fittings and to make sure Pippa looked amazing on her big day. If you recall, the socialite and little sis to Kate Middleton wore a gorgeous high-collar lace wedding gown with an open back for her 2017 nuptials. When asked how he felt seeing Pippa in the final look, Deacon says, "I was absolutely thrilled with the end result. I think she looked fantastic and I was so happy with the end result."
His connections to the royal family, however, don't end there. Just last month, Deacon became design director at Aspinal of London, a British handbag brand beloved by none other than the Duchess of Cambridge.
"I was only appointed about 10 days ago, so I'm jumping right into the job," he says with a chuckle. "Kate actually wore one of our bags last month and there was a surge for it on the website. We never know when she'll wear Aspinal of London because [the royals are] not allowed gifts. But this shows they organically love the brand and want to support it."
The "Kate Middleton effect" is indeed still very real.
["source=forbes]