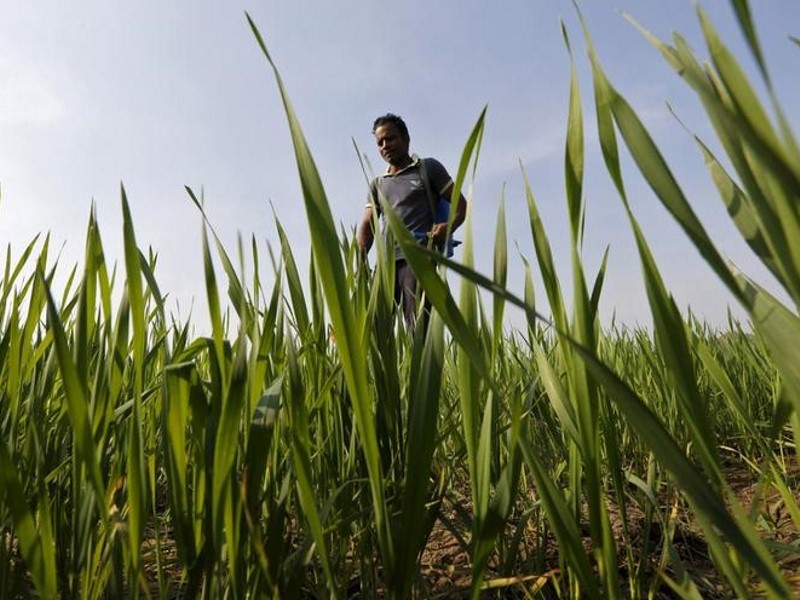 A digital platform for enabling farmers to sell their produce at a better rate anywhere in the country will be launched on April 14, Prime Minister Narendra Modi announced in Sehore on Thursday as he resolved to ensure doubling of the farmers' income by 2022.
PM Modi, who unveiled guidelines for the recently-launched Prime Minister's Crop Insurance Scheme at a rally in Sehore, said this was one of the various initiatives of his government aimed at ensuring the welfare of the farmers who have been in distress due to vagaries of weather.
Besides the Crop Insurance Scheme, the Prime Minister spoke about Soil Health Card scheme, PM's Irrigation Scheme, organic farming, ensuring adequate availability of urea and ethanol-blending programme to help the sugarcane farmers and also pitched for 'Startup' initiatives in agriculture sector.
The Prime Minister pushed for more and more use of modern technology and equipment along with traditional wisdom of farming to boost the agriculture sector, not only to meet the domestic needs but also cater to the demands from abroad.
"We want to integrate technology in the agriculture sector. There should be a mix of progressive farming and age-old wisdom," the Prime Minister said.
Noting that the farmers do not get adequate price for his produce despite working hard as he has no choice but to sell in the nearby mandis, Prime Minister Modi said the government has decided to address this by adopting a digital mechanism.
"We are setting up a National Agriculture Market, a virtual and digital platform, in the coming days… On April 14, the birth anniversary of B R Ambedkar, we will launch the online platform," PM Modi said at the rally which was attended by union ministers Sushma Swaraj, Radha Mohan Singh, Chief Minister Shivraj Singh Chouhan besides others.
The Prime Minister said this platform will enable the farmers, using a mobile phone, to sell their produce anywhere in the country, wherever they can get a better price.
At the rally, the Prime Minister said all states as well as agriculture community should take a pledge to double the farmers' income by 2022, the 75th year of the country's Independence. "We will do whatever is required achieve this."
Under the e-agri platform, the government is working towards integrating all the 585 wholesale mandis of the country by 2018 in a phased manner, for which Rs. 200 crores have been earmarked as of now.
In the first phase, 200 mandis will be integrated by this March-end while another 200 will be connected to the online platform in 2017 and the rest by 2018.
The Centre has received proposals from states like Karnataka, Gujarat, Telangana, and Maharashtra for developing necessary infrastructure in wholesale markets. A strategic partner for implementing the national agri e-market has also been identified.
Share a screenshot and win Samsung smartphones worth Rs. 90,000 by participating in the #BrowseFaster contest.
["Source-Gadgets"]