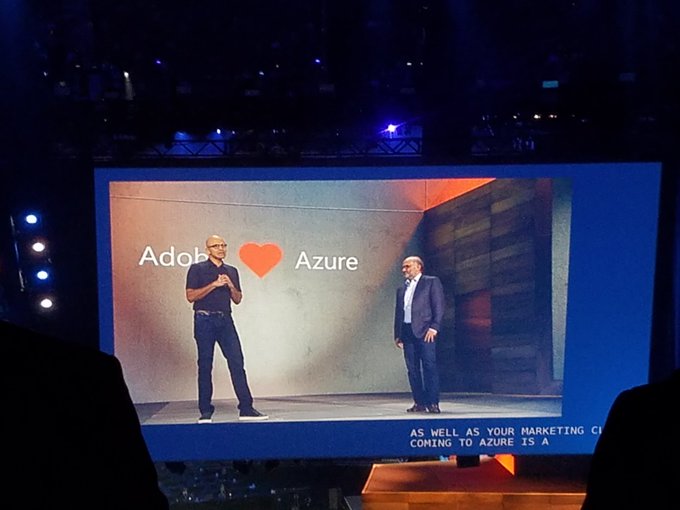 At the Microsoft Ignite Conference in Atlanta today, Microsoft (NASDAQ:MSFT) announced a new partnership with Adobe (NASDAQ:ADBE). Under the partnership, Microsoft Azure will become the preferred cloud platform for the Adobe Marketing Cloud, Creative Cloud and Document Cloud.
Customers of Adobe will have the benefit of Microsoft's powerhouse Azure cloud infrastructure behind them.
The CEOs of both Microsoft and Adobe appeared on stage at the event's opening keynote to make the announcement. The fact that the CEOs were there shows the significance of this strategic partnership to both companies.
View image on Twitter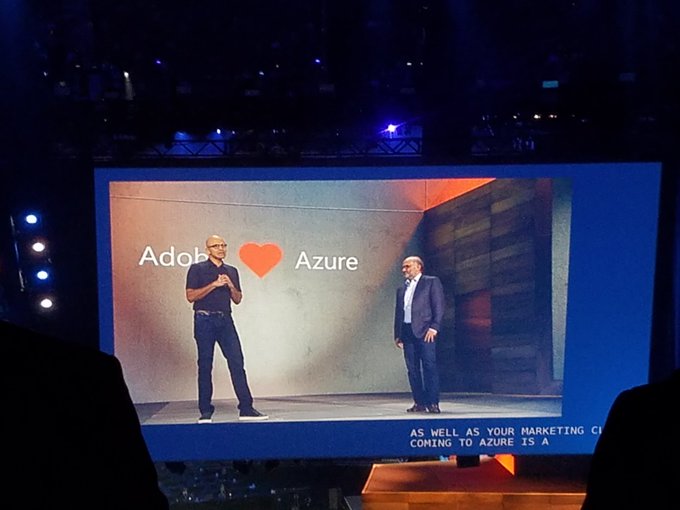 Rob Young, IDC

@RPYoung7

#Microsoft & #Adobe partnership announcement for delivering OOTB SaaS offerings via Azure cloud kicking off #MSIgnite
Adobe Cloud on Microsoft Azure
Adobe CEO Shantanu Narayen emphasized the importance of having a strong cloud infrastructure, noting that Adobe processes 23 trillion transactions each quarter, or over 90 trillion per year.
Microsoft CEO Satya Nadella said  in a statement, "Together, Adobe and Microsoft are bringing the most advanced marketing capabilities on the most powerful and intelligent cloud to help companies digitally transform and engage customers in new ways."
Both companies have made the cloud a central part of their strategies. Under Nadella's leadership, Microsoft has placed heavy bets on Azure and is investing significantly in all of Microsoft's cloud offerings including its Office 365 software-as-a-service application.
Adobe moved its business to a cloud model a couple of years ago, and the move is paying off.  Adobe's most recent financial results show strong performance.
Adobe also will get access to Microsoft's AI/machine learning service Cortana Intelligence Suite — giving customers access to more intelligence.
For small businesses that use the Adobe Cloud products, in the near term as Adobe transitions to Azure it means a strong cloud infrastructure to rely on.  Some Adobe services have been running on Amazon's AWS, but it's not clear if under the new arrangement Microsoft will become Adobe's exclusive cloud infrastructure provider.
Microsoft Ignite is Microsoft's conference for technology professionals and executives. The conference sold out weeks ago with over 23,000 people registered to attend.  The conference is also being simulcast live from the event website at ignite.microsoft.com.
["source-smallbiztrends"]