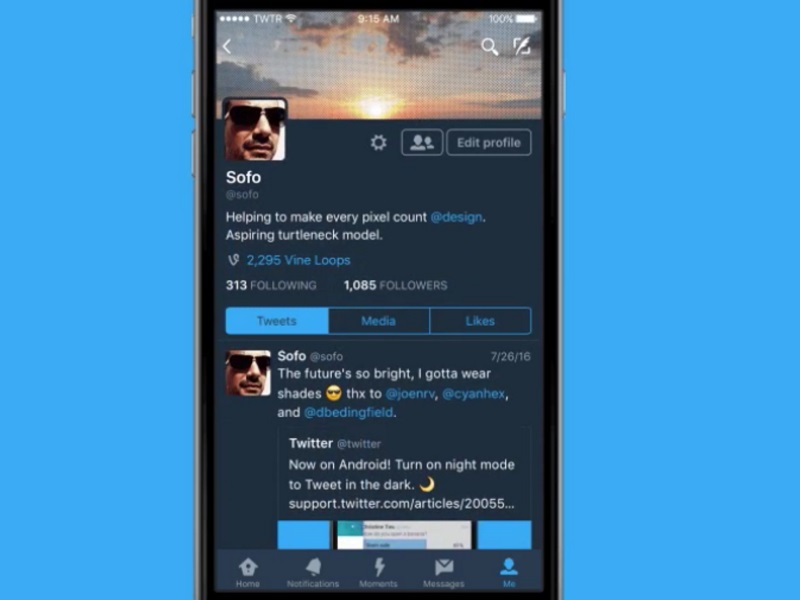 Twitter for iOS Gets the Long-Awaited Night Mode Feature
HIGHLIGHTS
Night Mode makes its way to Twitter on iOS
Night Mode available with version 6.60 of the Twitter app
No automatic trigger, users have to switch manually to Night Mode
After its introduction to Twitter's Android app last month, Night Mode has finally made its way to iOS. The feature has been in works for quite some time now and was spotted being tested by the social media networking website in May.
The Night Mode essentially changes the theme of the app from regular to a darker one (midnight blue in colour) and makes it more comfortable to use in conditions of low light.
In order to switch on the Night Mode on your iOS device, you need to head to the Settings tab on the updated Twitter app and enable Night Mode.
Twitter said in a tweet on Monday that it is rolling out the Night Mode feature from the same day. Night Mode can be found in version 6.60 update of the iOS app which is already available in App Store in India.
In May, we reported that the testing of the feature happened among a small number of alpha testers, as reported by a Twitter user running the v5.112.0-alpha.423 build. At the time, the UI was said to switch automatically at night time, and come back to the standard white background UI with black text in the day time.
However, Just like on Android, there is no automatic trigger on iOS that switches on the Night Mode according to certain times of day or based on your phone display's brightness.
Tags: Apple, Night Mode, Twitter, Twitter Dark Theme, Twitter Night Mode iOS, iOS
["Source-Gadgets"]