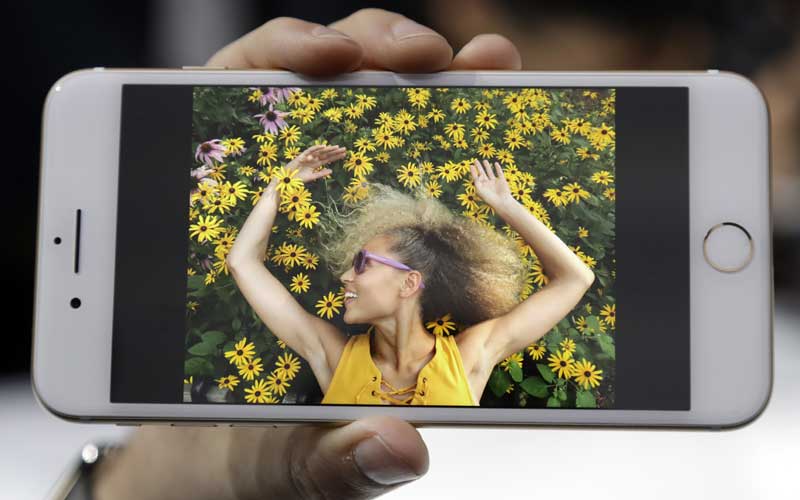 Apple won the crucial 2016 holiday quarter as iPhone 7 sales helped the company beat rival Samsung, shows IDC data. (Source: AP)
Apple has won the crucial 2016 holiday quarter as iPhone 7 sales helped the company beat rival Samsung, according to data from the International Data Corporation (IDC). IDC's Worldwide Quarterly Mobile Phone Tracker says a total of 428.5 million units of smartphones were shipped in Q4, 2016 marking a 6.9 per cent growth. For all of 2016, smartphone shipments stood at 1.47 billion units, which is a marginal 2.3 per cent yearly rise.
"There's no question that 2016 marked a memorable year for the smartphone industry in many ways," said Ryan Reith, program vice president with IDC's Worldwide Quarterly Mobile Device Trackers in a press statement.
"This was a year that brought us the first down year for the iPhone, yet Apple closed out the holiday quarter by surpassing Samsung for the top spot in the smartphone industry. We also witnessed year-over-year declines in some emerging regions like the Middle East and Latin America where high growth was expected," he added.
Watch all our videos from Express Technology
However, the research firm expects a few turnarounds in 2017. First up, the firm expects the iPhone shipments to rebound thanks to the tenth anniversary iPhone and it also expects Middle East and Africa (MEA) and Latin America to return to growth in 2017.
While Apple topped the quarter with 78.3 million smartphone shipments thanks to the iPhone 7, iPhone 7 Plus in 2016, overall 2016 didn't bring such good news. As IDC's data shows, "2016 marked the first full year of declining shipments for the iPhone with a 7 per cent year-over-year drop."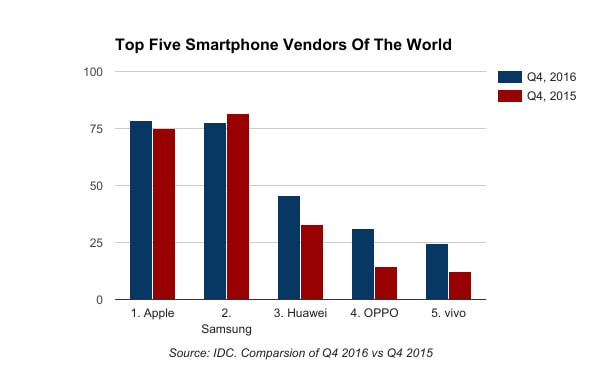 Top five smartphone vendors of the world. (Source: IDC)
Samsung, which stood at number two in the quarter saw shipments declining by 5.2 per cent compared to last year with 77.5 million units shipped. However for all of 2016, Samsung remained the leader with a massive 311.4 million smartphones shipped worldwide; this was still down 3 per cent from 2015. IDC notes that Q4 bought Samsung's worldwide market share below 20 per cent for the first time in over four years.
Huawei retained the number three position with 10.6 per cent market share and 45.4 million units shipped in the quarter. According to IDC, "The P series and Honor sub-brand drove essential volume in China as well as other countries in Asia and beyond," and the company is now targeting the US market.
OPPO and vivo came in at number four and five respectively. OPPO saw 100 per cent year-over-year growth in Q4 with 31.2 million smartphones shipped. According to IDC, OPPO's success in Southeast Asia and India have been the focal points for its growth. vivo shipped 24.7 million smartphones in the quarter.
"The top three Chinese vendors (Huawei, OPPO, and vivo) are persistently applying pressure on Samsung within China thanks to a vast portfolio of affordable, well-built devices. Not only is this pressure coming at the low-end, but high-end devices like the P9, Mate 8, R9s, and XPlay6 haven proven viable options for consumers looking to upgrade or save money without sacrificing quality," said Anthony Scarsella, research manager with IDC's Worldwide Quarterly Mobile Phone Tracker.
["source-ndtv"]