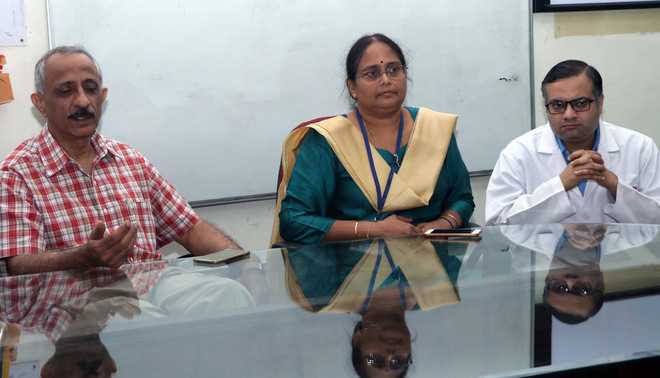 Chandigarh:
Gastrointestinal diseases are ever-increasing due to changes in lifestyle and also due to societal problems such as high prevalence of alcohol and drug abuse in the region.
This was stated by Prof Rakesh Kochhar, Head, Department of Gastroenterology, PGIMER, while talking to mediapersons on the eve of an update programme on gastrointestinal emergencies here today.
The two-day update will be attended by more than 300 delegates, including 200 DM and MD students, from all over the country at the PGI from tomorrow.
"Physicians and surgeons are encountering increasing number of patients with acute pancreatitis and liver failure, which are associated with high mortality rates. Clinicians and emergency physicians encounter these problems firsthand. Therefore, they need to be trained in managing these conditions," said Prof Kochhar.
Prof Usha Dutta, organising secretary of the event, said given the excellent feedback from the previous years' participants, the department made this event a regular feature.
She also stated that 'GI Liver' app for doctors, which was available free at the PGI website, had become popular with over 4,000 downloads globally. It had now been updated. The app had been peer reviewed by several national experts.
She also said emergency management was often the most important part of care in these patients and the management provided in the emergency situations could make or break the chances of a good clinical outcome. Emergency physicians and clinicians dealing with these clinical conditions had to be well equipped to handle these problems.
The Department of Gastroenterology, PGI, and other national experts, who are participating in this conference, will help in formulating appropriate guidance and strategies to tackle gastrointestinal emergencies.
The areas, which will be covered during this two-day event, include pancreatic diseases, gastrointestinal bleeding, management of foreign body ingestion, corrosive ingestion, liver failure and related complications. The event is focused on bridging the existing gap between Indian experts and Indian practitioners in order to bring the best evidence-based health care to Indian patients.
Experts for the event would be from AIIMS, Delhi, SGPGI, Lucknow, GB Pant, Delhi, Asian Institute of Gastroenterology, Hyderabad, among others.
---
Symptoms requiring urgent care
Blood in vomitus or black coloured stools/blood in stools
High volume diarrhoea
Severe abdominal pain with breathlessness or fever
Abdominal pain associated with jaundice and fever
Jaundice with bleeding from any site or with alteration in senses
Abdominal pain with inability to pass stools and gases
["source=tribuneindia"]