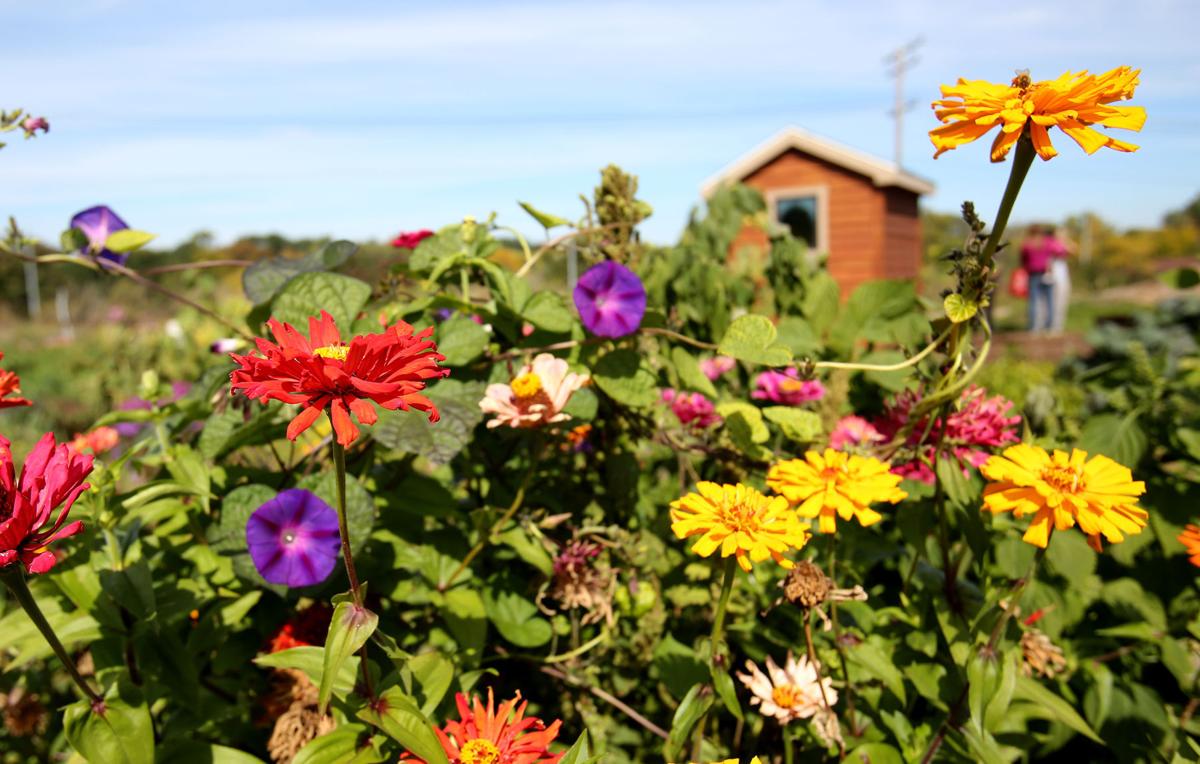 Flowers bloom at the Sheboygan Avenue Community Gardens in October 2015. Gardeners were forced to relocated from the site at 4802 Sheboygan Ave. because of the state's planned redevelopment of the Department of Transportation property on the west side.
After watching their community garden get the boot from state-owned property and moved to a smaller location, some west side Madison residents are one step closer to gaining back more growing space.
The city is considering three potential new locations in Bordner, Indian Hills and Rennebohm Parks for the Sheboygan Avenue Community Garden.
In 2016, the garden group was forced to move from its location of 35 years on the grounds of the Hill Farms state office complex because of planned redevelopment.
Though the city stepped in and found space for the group near the tennis courts at nearby Rennebohm Park, the plot is 20 percent of the original garden's size and allows fewer people to garden. The former site could support 112 plots while only 58 are available in Rennebohm Park.
Garden coordinator Cindy Statz said more space could provide room for meetings and composting.
"The additional (land) would really allow us to support more people, support larger families," Statz said.  
The private group has a strong community presence and is an asset to the neighborhood, said Madison food policy coordinator George Reistad.
"One could definitely take the tack to say it wasn't the city's problem, per se," Reistad said.
However, Reistad said the city has a "duty to our residents."
"If we are in a position to help, I think we should explore how we can help," Reistad said.
City staff are holding public meetings and conducting a survey to get community input on the new site. The Board of Park Commissioners will consider the final staff selection.
Once a site is picked, the Sheboygan Avenue Community Garden group will work with the city and Community Groundworks — one of the partners in a group that fosters community gardening in the city and Dane County — on the site design.
Residents interested in providing feedback can fill out a survey through Feb. 2.
Staff recommended the following locations: