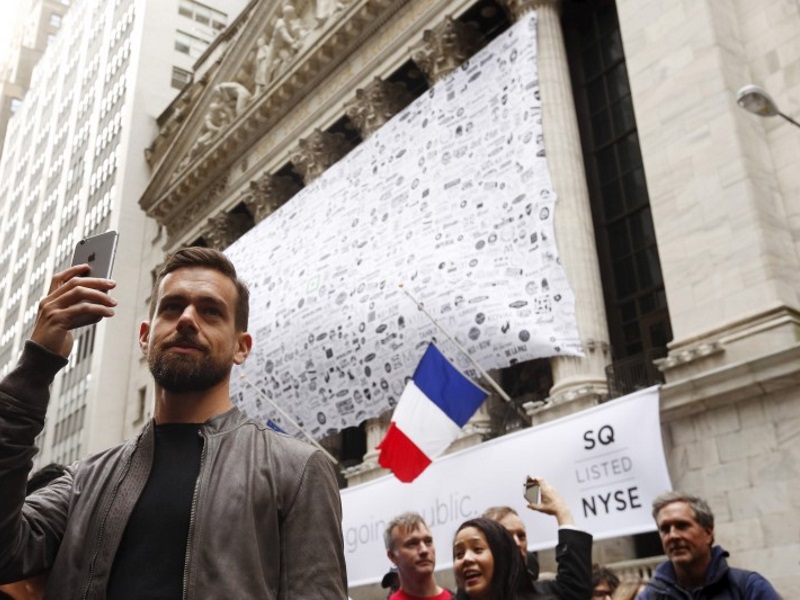 Mobile payments company Square Inc's revenue beat analysts' estimates in its first quarterly results since going public in November, easing pressure on CEO Jack Dorsey who is also leading turnaround efforts at Twitter Inc.
Square's shares rose as much as 7 percent after market on Wednesday, before giving up some of the gains. The stock had closed up 4.8 percent at $12.03 during the day.
The company's gross payment volume (GPV) – the total dollar amount of all card payments processed by sellers – rose 47 percent to $10.2 billion in the fourth quarter ended December 31.
"Historically, the fourth quarter has been our strongest revenue quarter as sellers typically generate additional GPV during the holiday season," Chief Financial Officer Sarah Friar said on a conference call.
Transaction revenue – earned from businesses processing payments through Square's devices – grew 44.7 percent to $298.5 million.
The company, founded in 2009, has built a substantial customer base with a credit card reader that turns a mobile device into a payment terminal. The company also makes point-of-sale registers, and contactless and chip-enabled card readers.
Hardware revenue more than tripled to $6 million in the quarter.
However, Square is facing rising competition in the payments market, from large companies such as PayPal Holdings Inc to smaller startups such as Stripe Inc.
Also, Dorsey's dual role as CEOs at Twitter and Square has been a sore point with investors at both companies. On his part, Dorsey has looked to play down the concerns.
Square's total net revenue rose 49.2 percent to $374.4 million in the quarter, beating analysts' average estimate of $343.2 million, according to Thomson Reuters I/B/E/S.
The company forecast adjusted revenue of $600 million-$620 million for 2016, above the $452 million it reported a year earlier.
However, net loss attributable to common stockholders widened to $80.5 million, or 34 cents per share, from $37.1 million, or 25 cents per share. The loss for this quarter included a charge of 14 cents per share due to a stock dividend for holders of one class of preferred shares in the company.
Square has been investing heavily in new hardware and building out its lending business, Square Capital.
The company's shares have mostly stayed below the first trading close of $13.07 and even slipped below the deeply discounted IPO price of $9, hitting a low of $8.06 on Feb. 3.
Since then, the stock had risen nearly 50 percent through Wednesday's close.
["Source-Gadgets"]