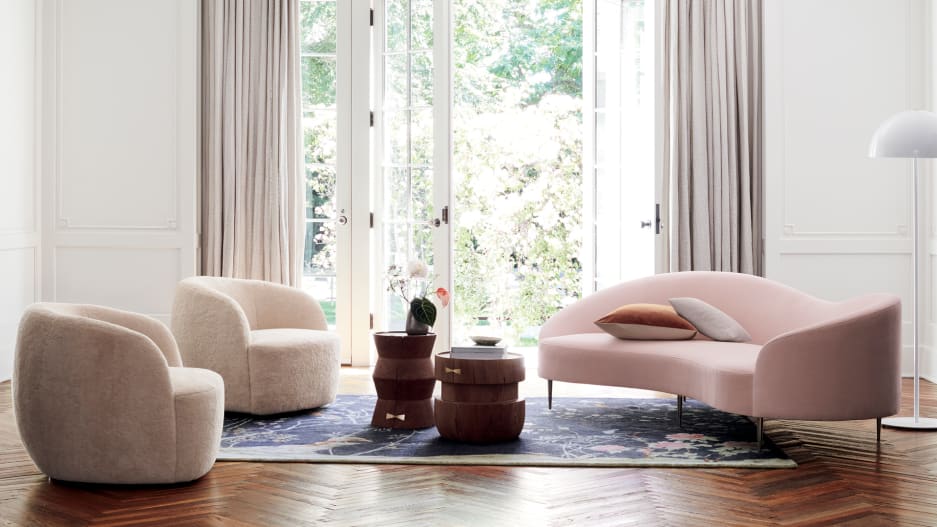 When Gwyneth Paltrow wants to relax at home, she'd prefer to do it on a pink velvet sofa, designed with an asymmetrical curve that runs along the back. She may put her legs up, and drink a glass of wine from a glass that looks like it was found at an antique store.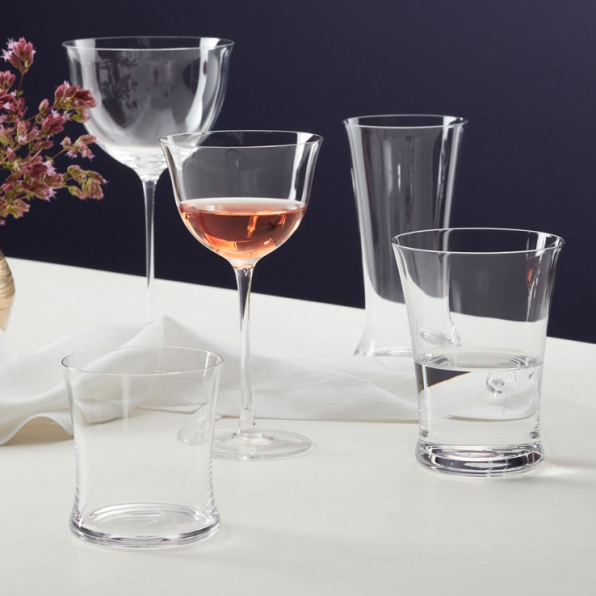 If you happen to admire Paltrow's aesthetic sensibilities, you're in luck. Starting today, you can furnish your home with pieces that the actress and businesswoman has designed herself in collaboration with CB2, Crate and Barrel's millennial-focused brand.It's not entirely a surprise that Paltrow would release a furniture line. Over the last decade, she's demonstrated her skill at cashing in on her celebrity and, at times, notoriety. Goop, the lifestyle brand she launched from her kitchen table in 2008, is now worth $250 million according to the New York Times. She's built this empire by giving her audience insight into the charmed life she leads–full of beautiful clothes, expensive skincare regimes, a delicious yet slimming diet–then selling products so that her fans can recreate this lifestyle themselves. Whether you love her or hate her, she's got your attention. And now that you're taking notice, she's selling you a line of home goods.
Here's the thing. I actually like the collection. It's eclectic, ranging from sofas and coffee tables to rugs and dinnerware, that all somehow fit together. The 58 products in the line, like the rest of CB2's wares, are priced reasonably, from $9.95 to $1,999. The pink sofa is the most expensive of the lot at $1,999 and the wine glasses cost $15.95. There are floor pillows that cost $49, rugs that start at $249, and a whimsical indoor swing chair that costs $1,199.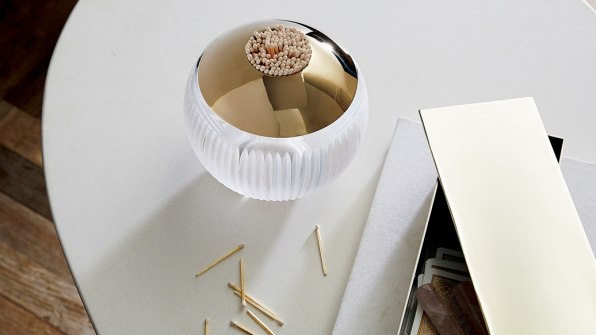 THE GOOP STORY
Goop, Paltrow's lifestyle brand that now includes a newsletter, website, and e-commerce site, began as a place where she curated products she loved made by other brands and designers. But over the past few years, Paltrow has been designing and selling her own products. She launched a fashion line, based on pieces in her own wardrobe, which her company designs and manufactures from start to finish. Goop also has a line of beauty products and vitamins. In many cases, Goop collaborates with other brands like Christian Louboutin, Lilly Pulitzer, and Stella McCartney to create co-branded products.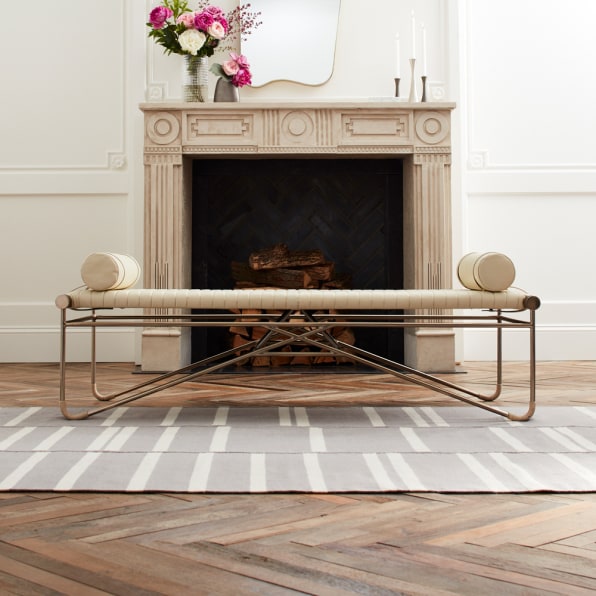 This is the first furniture collaboration that Goop has undertaken, but it's part of a larger strategy to directly monetize Paltrow's personal taste, rather than just making a commission by selling products made by brands she likes. "Our goal is to create beautiful products that will carry women through every aspect of their lives," says Blair Lawson, Goop's chief merchandizing officer.  "We've created beauty and fashion products, but our customers had been asking for home products as well. This is our first foray into the world of furniture."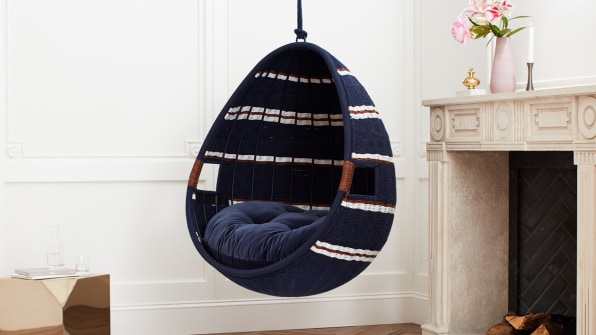 THE GP AESTHETIC
Each piece from the collection is designed to communicate Paltrow's own aesthetic, which can be surprising and hard to pin down. There are pieces that look like they were picked up from faraway travels, like the chinoiserie rug that could've been snagged at a Parisian flea market and a whimsical indoor chair that looks like it belongs in a tropical seaside villa. There are geometric side tables and a buffet that carry a distinct midcentury modern look. But the pieces come together in an easy way that seems eminently livable. And there are some idiosyncratic items, like a bedside water pitcher that comes with a glass on top that Paltrow has in all of her guest rooms. "Gwyneth has children and wants her home to be cozy," she says. "But she also loves having a very layered look, that pulls from a wide range of inspirations and travels."
The entire premise of Goop is to give women access into Paltrow's life, and then recreate her style in their own lives by buying pieces she endorses or owns. But part of the brand's decade-long success can be attributed to the fact that Paltrow's taste is complicated and hard to replicate. It's constantly evolving and seems to be inspired by a wide range of influences. While there are some parts of Paltrow that are easy to identify and even caricature–like her affinity for kooky wellness trends–her personal style is harder to capture. And all of this keeps Paltrow's fans coming back to Goop for more. She's made a science out of aspirational marketing, creating an image of a life that consumers desire to have but can never fully achieve.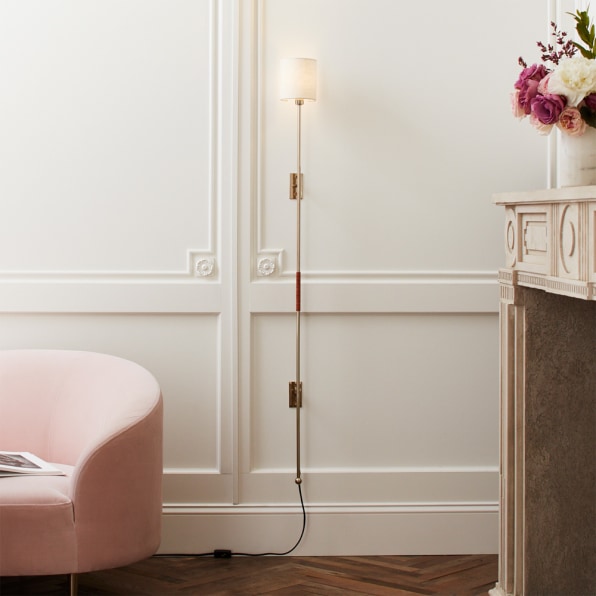 WHY CB2?
Which makes CB2, one of the more accessible, affordable furniture brands in the market, an odd choice for a partnership. According to CB2 president Ryan Turf, the collaboration made sense from an aesthetic perspective. Unlike many home brands, CB2 doesn't have a singular look. West Elm tends toward midcentury modern, Restoration Hardware is inspired by classic European architectural decor, and Design Within Reach is all about Scandinavian minimalism. But CB2's style is all over the map, ranging from modernist to baroque, and relaxed beach-chic to starkly industrial. "The design team feels free to draw from anything that inspires them," Turf says. "We're less interested in a specific style and more interested in pieces to spark an emotion, because they remind you of a particular time in your life or a piece of art that you love."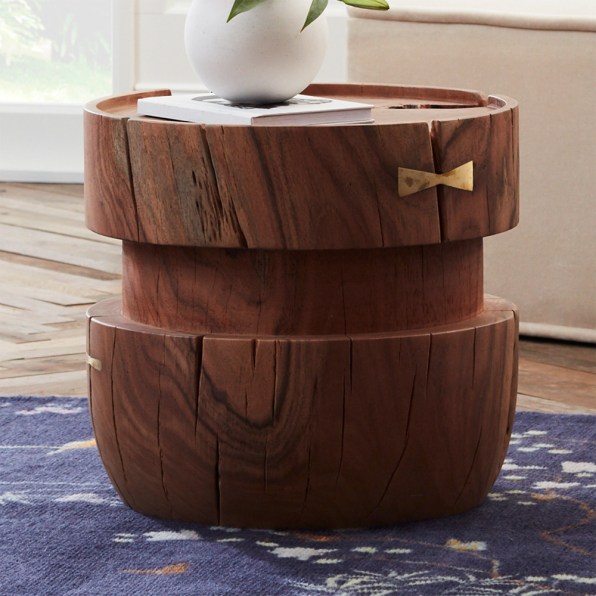 The collaboration was also appealing to CB2 because it taps into a certain type of younger consumer drawn to digitally native brands like Goop, Turf explains. The home good space is now bubbling with new startups, which all began online and are now slowly rolling out stores. This is starting to eat into the market share of established home brands like Crate and Barrel, Pottery Barn, and Restoration Hardware. As Crate and Barrel's less expensive, millennial-oriented younger sister, CB2 competes directly with brands like Brooklinen, Interior Define, Maiden Home, Burrow, and Parachute. With this partnership, CB2 will appear on the Goop website and social media channels, giving the brand greater reach as it takes on newer online upstarts. As a private company, Crate & Barrel's revenues are not publicly disclosed, but some reports suggest that its business has not been growing over the last few years. Celebrity partnerships like this could be an important source of revenue.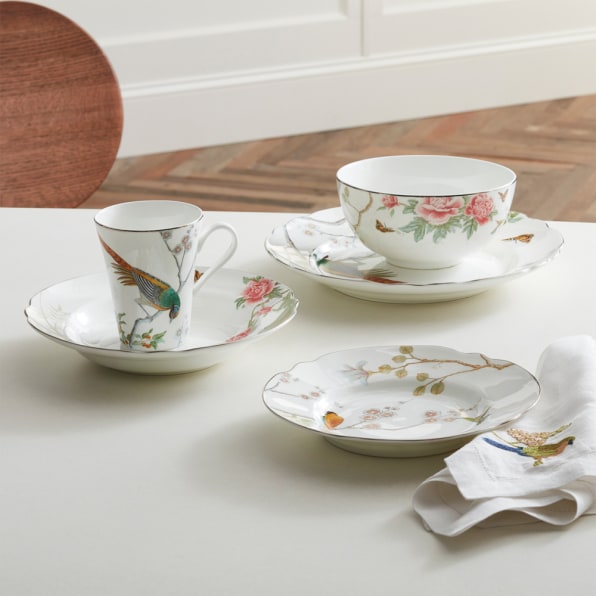 As for Goop's motivation: Goop has been mocked in the past for recommending ridiculously expensive products. Its Christmas gift guide last year included a $16,500 at-home tank for you to soak in and a clutch designed to look like a packet of french fries that costs $5,695. But the pieces within this CB2 collection are at a price point that millennials, who are now in the middle of their careers and nesting, will find reasonable. Lawson says that Goop is deliberately trying to be more inclusive and accessible by creating products at a wide range of price points.Still, when I open the Goop website, a stream of expensive products scrolls across the bottom of the screen available for purchase, like a $1,695 pair of leather pants and a $3,700 diamond encrusted ring. (Both cost more than the majority of the items within the CB2 collaboration.) Goop's pricing strategy seems to sit at a delicate intersection of reflecting the indulgent, luxurious world that Paltrow inhabits, while offering a sprinkling of items that the average visitor to the Goop website will actually be able to afford. It all seems to be wrapped up in the idea of giving the customer a taste of Paltrow's lifestyle, while giving them more to aspire to. (And save up for.)
["Source-fastcompany"]