THE FLATS  –  Georgia Tech continues its 40th season of Atlantic Coast Conference basketball Saturday afternoon with a 4 p.m. regionally-televised contest against Louisville at McCamish Pavilion. It is the first of two straight games at home upcoming for the Yellow Jackets.
Tech (10-7, 2-2 ACC), in its third season under head coach Josh Pastner, is 8-3 at home this season, including a 1-1 mark against ACC teams at McCamish Pavilion. Tech opened its ACC schedule with a 92-79 win over Wake Forest and a 52-49 loss to No. 9 Virginia Tech at home, and split a pair of road games at Syracuse (73-59 win) and Clemson (72-60 loss) coming into Saturday's game.
Louisville (12-5, 3-1 ACC), in its first season under head coach Chris Mack, has lost only at Pittsburgh in overtime in conference play. The Cardinals have defeated Miami and Boston College at home, and last Saturday won convincingly at North Carolina, 83-62.
Saturday's game will be broadcast live on the ACC's Raycom Sports Network (Peachtree TV in Atlanta), and will be streamed live on ACC Network Extra, available through the ESPN app. Radio coverage is provided on the Georgia Tech IMG Sports Network, airing in Atlanta on 680 AM and 93.7 FM the Fan. The Tech broadcast is available on satellite radio (Sirius ch. 136, XM ch. 194, internet ch. 956).
STARTING LINEUP
Breaking the ACC ice – Georgia Tech is looking for its first ACC win over Louisville. The Cardinals have won seven in a row in the series, dating back to Tech's last victory in December of 1997, and the first five meetings as conference foes.
Taking Volunteers – Georgia Tech and Louisville have one common non-conference opponent. Both teams lost to Tennessee, Tech by a 66-53 score in Knoxville in the second game of the season, and the Cardinals by 91-82 on a neutral court in their fourth game.
Head-to-head – Georgia Tech coach Josh Pastner faced Chris Mack's Xavier teams twice while he was the head coach at Memphis. The teams split the two meetings during the 2011-12 and 2012-13 seasons, each winning at home.
Tough at home – Tech is 13-7 against ACC teams at home under Josh Pastner, 5-4 against top-25 ACC teams.
Tough slate – January shapes up as a rugged month as Virginia Tech, Syracuse, Clemson, Duke and North Carolina all made the NCAA Tournament field last season. Duke is currently No. 1 in the nation, while Virginia Tech and North Carolina are ninth and 13th, respectively. Clemson and Syracuse were ranked in the top 25 to begin the season.
Guard your yard – Georgia Tech ranks third in the ACC in scoring defense (No. 18 nationally), No. 3 in field goal percentage defense (No. 9 nationally) and No. 3 in three-point percentage defense (No. 8 nationally). The Jackets are also third in blocked shots and steals.
Below average – Wake Forest and Clemson are the only opponents to exceed their season scoring averages against Tech this season – breakdown by game: Lamar 81.8 (69), Tennessee 85.5 (66), East Carolina 71.1 (54), UTRGV 70.2 (44), Prairie View A&M 69.2 (54), Northwestern 73.5 (67), St. John's 83.9 (76), Florida A&M 63.2 (40), Gardner-Webb 82.9 (79), Arkansas 81.8 (69), Georgia 79.2 (70), Kennesaw State 62.5 (57), USC Upstate 70.9 (63), Virginia Tech 81.1 (52), Syracuse 70.9 (59).
50 (per) Cent – Georgia Tech has shot well above 50 percent four times in its last six games (44.7 percent vs. Virginia Tech, 47.7 percent at Clemson the exceptions). The Jackets have connected on a collective 54.2 percent on those six games, 36.1 percent from three-point range.
Going deep – Georgia Tech has deployed seven different starting lineups this season, and 10 Yellow Jackets have started three or more games.
Longer bench – Tech has deployed at least eight players for significant minutes in each of its games so far, including nine or more in three of its ACC games to date. Tech's bench has played 32.9 percent of available minutes, 117th in the nation according to KenPom.com (national average is 30.9 pct.). Tech reserves are outscoring their opponents 25.7 to 15.5 per game).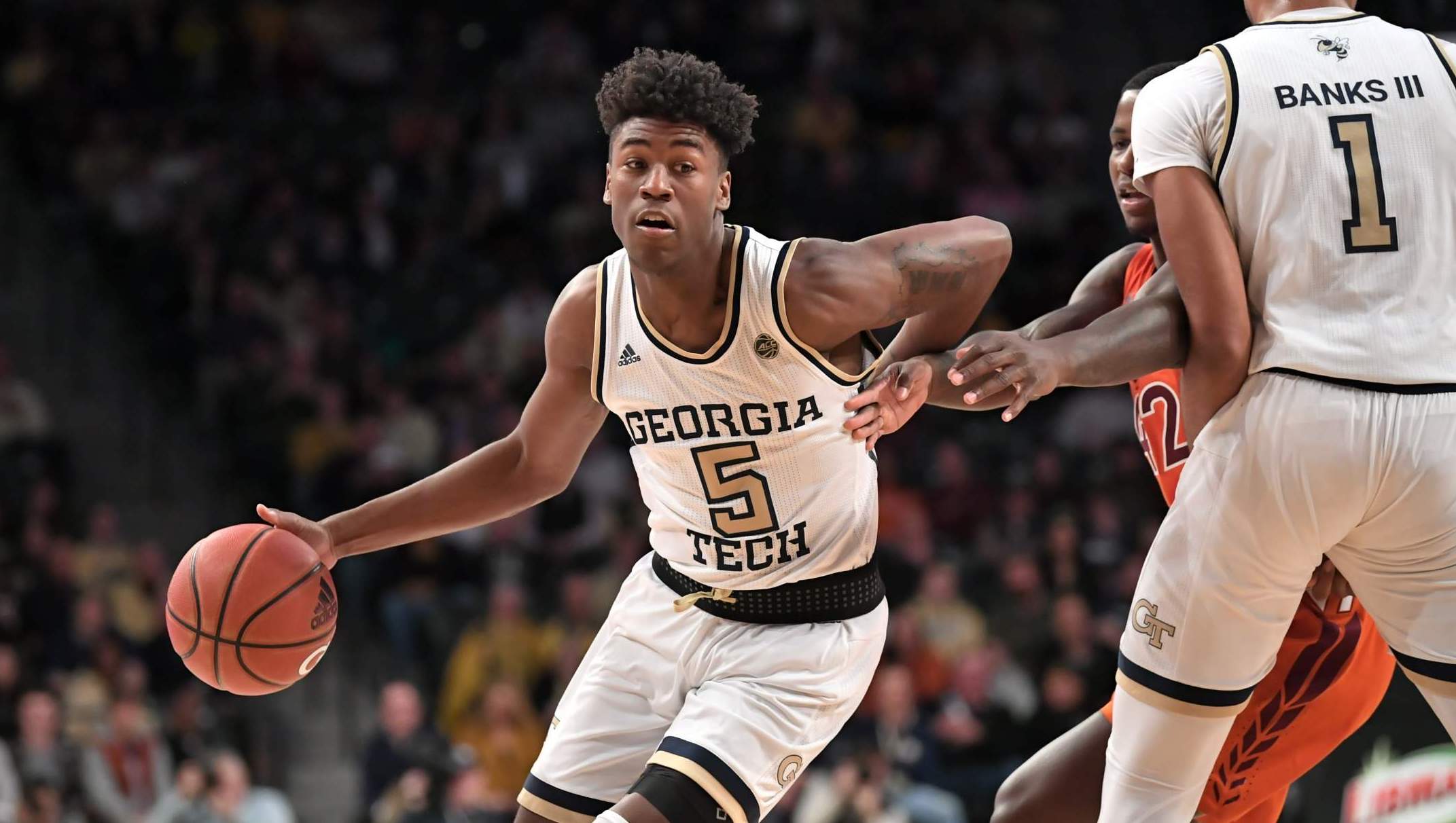 Moses Wright scored nine points and grabbed four rebounds at Clemson.
TECH HONORING ANTHONY MORROW
Georgia Tech will celebrate Anthony Morrow Day at its sold-out men's basketball game against Louisville at McCamish Pavilion, and the halftime show will feature the inaugural Diaper Derby baby race.
The former Yellow Jacket star scored 1,400 points in his four-year college career from 2004-08, ranks third in Tech history with 258 three-point field goals and third in highest three-point field goal percentage (42.1). Undrafted, he signed a free agent contract with the Golden State Warriors in 2008 and played nine seasons in the NBA for seven different teams. The 6-5 Morrow finished his career with a 41.7-percent clip from three-point range.
The Charlotte, N.C., native will sign autographs for Tech fans from 3-3:45 p.m. Saturday on the concourse level at section 101. Complimentary autograph cards will be given to the first 1,000 fans. Free Anthony Morrow t-shirt jerseys will be offered to the first 1,000 fans through the doors at sections 103 and 115. Morrow will be honored on the court at halftime.
SERIES VS. LOUISVILLE
Of the four most recent newcomers of the expanded ACC, Tech has the longest history with Louisville, meeting 28 times prior to the Cardinals joining the conference.
Louisville has won all five games between the two teams as ACC brethren, the first three by a combined eight points. The Cardinals scored double-digit wins in each of the last two.
Tech went 3-6 against the Cardinals with Whack Hyder as its head coach, all of those games between 1958 and 1965.
After a 12-year hiatus, Tech was 2-2 vs. Louisville when both teams were members of the Metro Conference in the late 1970s. Dwane Morrison was the Yellow Jackets' head coach for all those games, and Denny Crum was on the Cardinals' bench.
After another long break, the teams met 13 times between 1988 and 1999, with Bobby Cremins and Crum on the opposing benches in all those games. The Yellow Jackets went 8-5 against the Cardinals during this time. Three of the meetings took place at Alexander Memorial Coliseum, and six at Freedom Hall.
The other four were played at the Georgia Dome. Tech won three of those, including the first-ever college basketball game played in the facility, and before the largest crowd ever to witness a college game in the state of Georgia at the time (28,885). That game will be forever remembered in Tech lore after James Forrest launched a half-court heave on an inbounds play that dropped through the net at the buzzer for an 87-85 Yellow Jacket victory,
The teams have met seven times when both were ranked among the nation's top 25 teams, and Tech has won four of those meetings.
Tech coach Josh Pastner went 2-2 against Louisville during his seven-year stint as the head coach at Memphis and is now 2-4 against the Cardinals.
["source=ramblinwreck"]