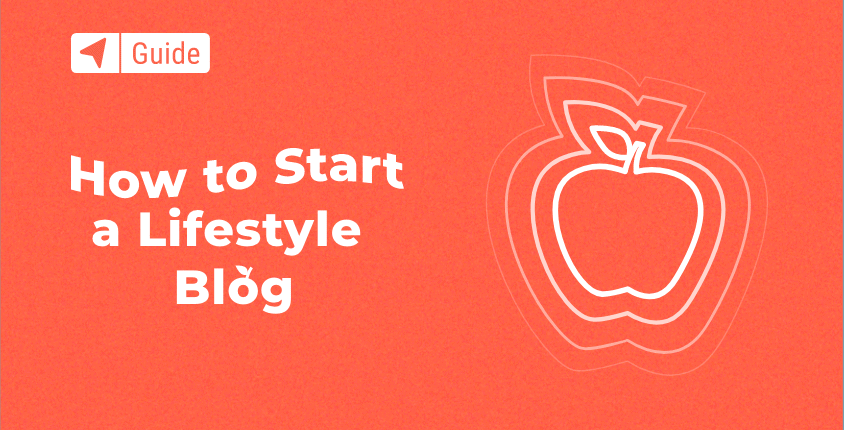 Learning how to start a lifestyle blog can be life-changing for you. Not only would you have the opportunity to share your life experiences, passions, and insights, but you'd also get to learn a lot from your readers. After all, many blog readers enjoy sharing their own takes on specific topics and discussions – that's just one of many reasons why it can be enlightening to make a blog.
Of course, running lifestyle blogs can be quite a lucrative endeavor as well, whether you're doing it as a hobby or planning to make it your primary source of income.
But, you have to do it right. Luckily, it's much easier than you may think. With some guidance and dedication, you'll master the art of blogging in no time, and we'll help you every step of the way.
So, check out this thorough guide on how to start a lifestyle blog for beginners. It's divided into eight easy-to-digest steps that'll help you become a pro.
Table of contents
Step #1: Decide on your niche
Step #2: Select your blogging platform
Step #3: Name your blog
Step #4: Get hosted
Step #5: Launch your blog on WordPress
Step #6: Set the theme
Step #7: Publish and promote
Step #8: Turn a profit
Takeaway
Step #1: Decide on your niche
Whether you're wondering how to start a lifestyle blog on Instagram or any other platform, the first step is always the same. You need to come up with your unique selling point. And this starts with determining your niche.
Simply "lifestyle" is a broad topic that will make it difficult for your blog to stand out among countless others. Today, there are well over 600 million blogs online. Learning how to start a lifestyle blog in 2021 is quite different than it was in the early days of blogging.
In 2010, for example, you could've succeeded with a very general topic as a blogger. A decade later, and you need to have a very specific niche to move forward and stand out.
With a suitable niche and a narrower focus, you'll have an easier time coming up with relevant topics, attracting your target audience, and outperforming direct competitors. Overall, you'll simplify your blogging experience by making a smart choice now.
How to find your lifestyle blog niche?
Most blogging beginners experience some challenges finding a suitable niche. However, it doesn't have to be all that difficult. You simply need to answer a few questions:
What are your skills and interests?
You cannot hope to learn how to start a lifestyle blog and make money from it if you have no interest in it. You'll likely spend years working on your blog, promoting it, gathering readers, and more. So, if you're not skilled or passionate about the topic of your choosing, running your blog will become an exhausting chore.   Narrow down your lifestyle niche by focusing on your own skills and interests, the latter perhaps being more important. If you are interested in something, you'll find it much easier to level up your relevant skills. Your passion for the topic will push you forward and help you to stay inspired and focused.
Who is your target audience?
Answering this question will help you to develop a unique brand persona, tone of voice, and general approach to blogging. Think very carefully about who your target audience is. What are their hobbies, interests, and personalities? Is your ideal reader a college student or perhaps a businessperson? How old are they and where do they live? Are they affluent individuals or struggling artists?   Be very specific about your target readers. You can go so far as to envision a specific person with a specific name. "My reader is Emma. She's 28 years old, works at a marketing company, and lives in Boston. She likes cooking and spending time with her pet French bulldog." When you have a specific target reader in mind, you'll find it easier to write and express yourself in a way that would appeal to them. If your actual readers swerve away from what you've envisioned, you can easily adapt your approach to suit them.
Why would your target audience be interested in reading your blog?
Finally, you'll need to think about why your target readers might be interested in your lifestyle blogs. Do you have something of value to offer them? Some unique insights and information? Can you perhaps solve some of the problems that your readers are likely to encounter?
The best lifestyle blogs will have a unique selling point that's appealing to their target audience, and that piques their interest. You'll have no trouble coming up with a relevant niche once you've answered these three crucial questions.
Commonly covered topics on lifestyle blogs
Of course, you can also find a suitable niche by checking out some of the most common lifestyle topics:
Beauty
Self-Care
Fashion
Health & Fitness
Motherhood
Family
Food
Hobbies
Home Decor
Travel
Since these are the most common lifestyle blog topics, you'll find fierce competition there. So, if any of these topics resonate with you, be sure to give them an interesting twist or provide a different perspective.
Examples of popular lifestyle blogs
Before you get to work and start publishing lifestyle blogs, it's always a good idea to do some research and find out what others in your niche are doing. This will help you to draw inspiration and develop a distinct brand voice.
We've gathered some of the most popular lifestyle blogs across niches, so check them out.
The EveryGirl – The EveryGirl is a unique lifestyle blog that aims to inspire and encourage women of all backgrounds. On the site, you'll find educational webinars, finance tips, cooking tips, and more. It stands out as a one-stop-shop for women who need a little bit of guidance about just about anything.
Say Yes – Say Yes is a family-themed lifestyle blog that covers topics as diverse as home decor and keeping your food fresh for longer. What makes it unique is the friendly and familiar tone that makes you feel like each article was written just for you.
The Financial Diet – The Financial Diet covers a little bit of everything but mostly focuses on finance and budgeting topics. It's a place where women can head to learn more about keeping their finances in order and maintaining a better work-life balance.
A Cup of Jo – This is a family lifestyle blog that shares articles covering motherhood, parenting, traveling, and more. The pieces are interesting and lighthearted, but what makes this blog unique is that Jo regularly engages with her readers in the comment section. She uses comments to stir up discussions, provide additional information, or simply to elaborate on her articles.
Step #2: Select your blogging platform
Some web development skills can be quite useful when you're figuring out how to start a lifestyle blog. But, you don't have to spend years learning how to code. All you need is a reliable blogging platform. It will enable you to easily manage, publish, and edit the content on your site, without any prior programming knowledge.
You have several ready-made blog sites and content management systems at your disposal such as WordPress, Wix, Squarespace, etc.
Regardless of which blogging platform you choose, you'll have to decide whether you want free web hosting or an open-source self-hosted blog.
Free web hosting
Free web hosting is exactly what it sounds like – a free service that provides you with the tools to launch your website. The best examples of free web hosting platforms are WordPress.com and Blogger.com.
You'll get access to all of the basic features, themes, gadgets, and templates, but there are a few drawbacks.
While you can choose the name for your lifestyle blogs, your domain name would appear as [yourwebsitename].wordpress.com or [yourwebsitename].blogspot.com. If you want to choose your domain name or use any advanced features, you'll need to upgrade.
Going for the free web hosting option will also bring some other limitations. You'll have limited storage, sub-optimum bandwidth allocation, and you'll have no say in ad choice and placement. Overall, it's not the best option, but it can be a good place to start.
Open-source self-hosted blog
An open-source self-hosted blog is a much better alternative. You'll have full control over your blog, and you can customize it however you like – choose your domain name, decide on ad placement (if you want ads at all), get all of the plugins you need, enjoy better back-up, and marketing.
We highly recommend using the self-hosted setup and our top recommendation is WordPress.org due to its abundance of features. Your WordPress blog will be easily customizable. You can add high-quality media, download thousands of useful plugins, and try so many free themes.
When creating a self-hosted WordPress lifestyle blog, you'll have to choose your hosting provider, and of course, your domain name. The best hosting provider, by far, is Bluehost. It powers over 2 million websites and is an excellent option for beginners and pros alike.
Step #3: Name your blog
While the name isn't the most important aspect of your lifestyle blogs, it's still necessary to think carefully about it. After all, it's likely the first thing your readers will notice, so you want it to act almost like your brand ambassador.
Keep the name:
Short and sweet
Memorable
Unique
Easy to spell and pronounce
It needs to resonate with your audiences, so make sure to pick a good blog name.
The annual price for a name typically goes between $10 and $15 per .com domain. Our favorite domain hosting service for lifestyle blogs is Bluehost. You can choose your domain name for free, use one you already have, or simply come up with one later, just before you launch your blog.
Recommended tool:
Step #4: Get hosted
Lifestyle blogs don't simply float around in the ether. Everything that exists on the internet needs to be stored on a server so that it's accessible for viewing at any time. Since it's generally difficult (and not to mention expensive) to create your own servers, you need to outsource your hosting needs.
Web hosting enables you to rent or buy a space where you'll house your blog. You'll get access to servers, data centers, and accompanying services that allow your blog to live online and be connected to the internet.
The best web hosting provider that is even recommended by WordPress is Bluehost.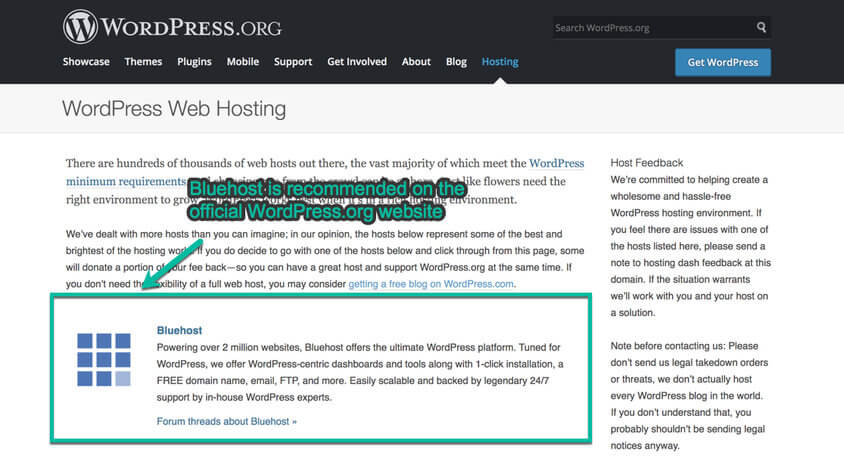 It offers a free domain name in the first year when you buy their services and a thirty-day money-back guarantee.
Our readers can get a special discount offer and use Bluehost at a price of only $2.75.
Step #5: Launch your blog on WordPress
Now we'll go through the step-by-step process of how to start a lifestyle blog on WordPress through Bluehost. It's all simple and straightforward, and you simply need to follow along.
Visit Bluehost homepage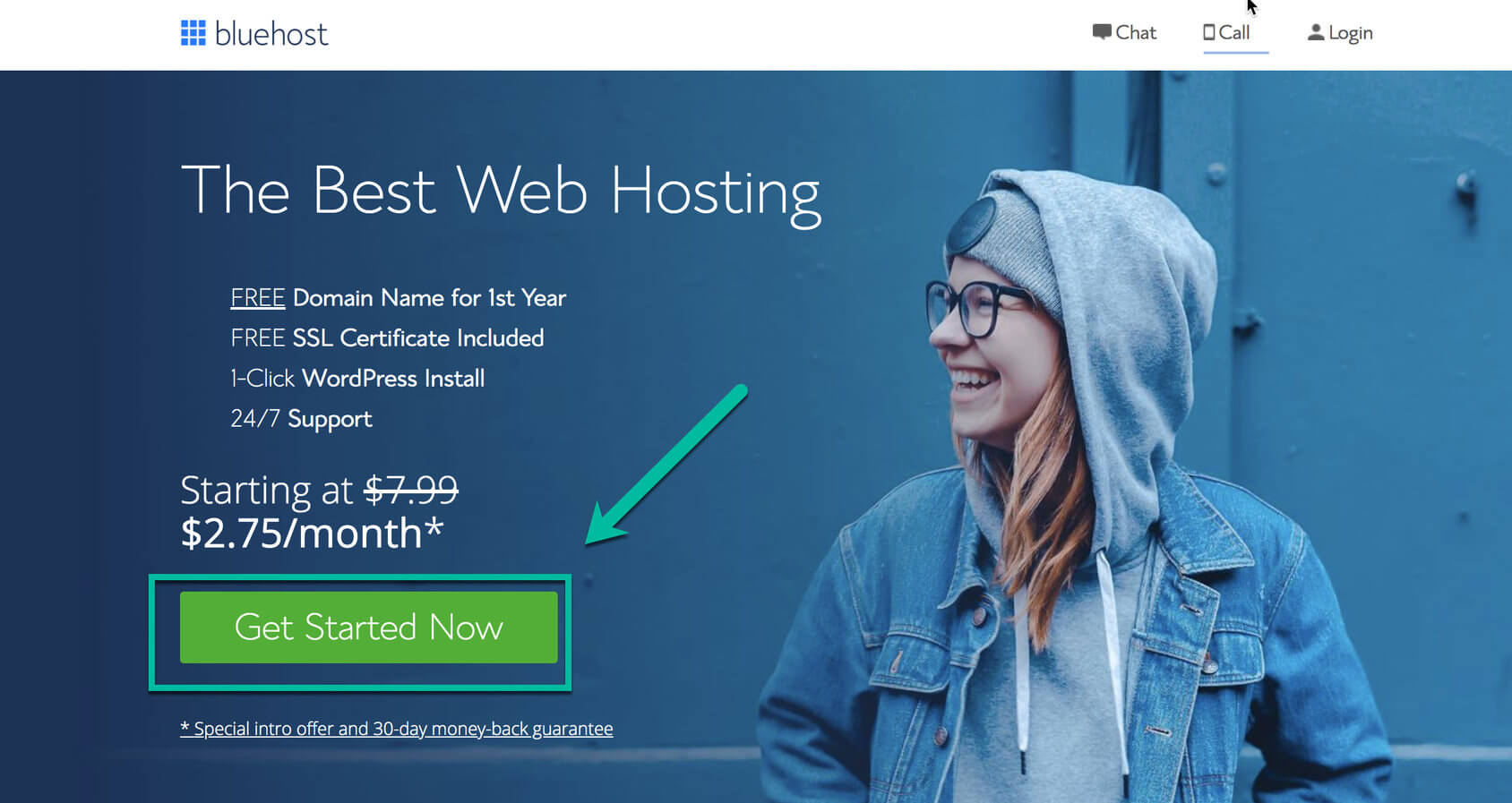 Go to Bluehost.com to begin the process. Click on the "Get Started Now" button, and follow the steps.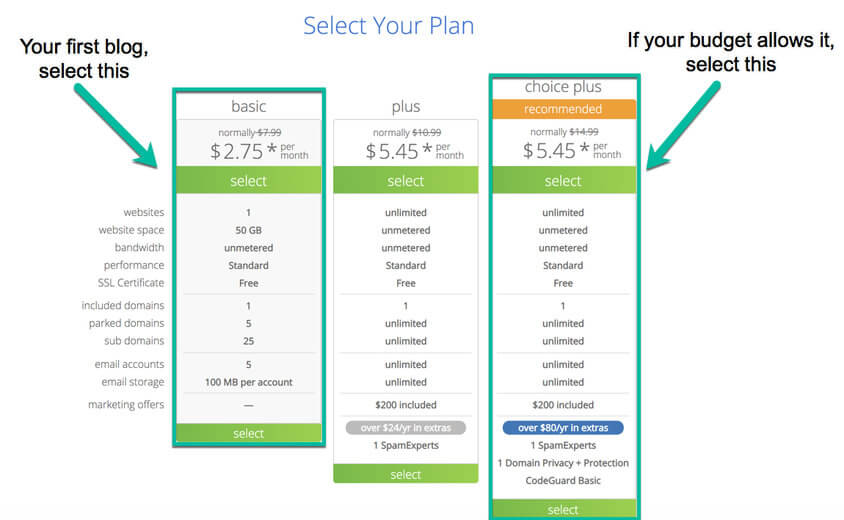 You'll first have to select your hosting plan. You'll have four options to choose from, each with different price tags and features. Consider them carefully before you continue.
The basic plan offers you everything you need to get started with your lifestyle blogs. However, we'd recommend Choice Plus if it's in your budget. The additional features are well worth it.
Choose your domain name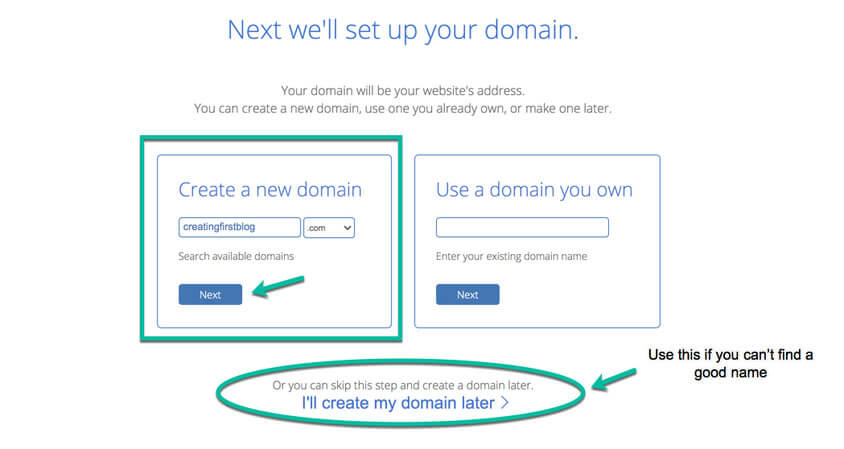 The next step is choosing your domain name. As mentioned, you can use a brand new one, choose one you already own, or come back to it later. Don't make any rushed decisions as your name will be the first thing your readers will notice.
["source=firstsiteguide"]