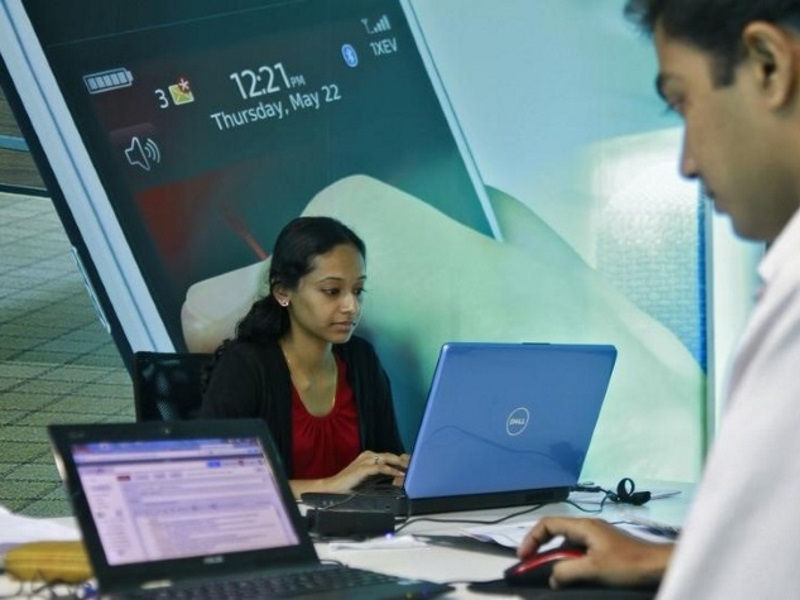 Some call it the fourth industrial revolution or "industry 4.0"; for others, the time when machines can "talk" at "smart" factories and "connected" homes to make your life better is here. But for India,Internet of Things (IoT) can bring a real revolution: empowering millions in rural areas and connecting "humans" to the mainstream.
A well-connected nation is the first step towards a well-served nation and, hence, connecting rural India to the IoT will provide the much-needed bridge between urban and rural India.
"It is a surefire way of channelling the benefits of a digital economy to the largest part of the country. IoT will enable delivery of education, health, governance and financial services to otherwise underserved areas," Oracle India managing director Shailender Kumar stressed.
For example, most patients in rural areas do not have access to specialists. Thus, several large hospitals in the metros are beginning to offer remote consulting services in rural villages using media-rich network capabilities.
"The doctors can see and interact with patients in remote telemedicine centres, with the case history and medical data automatically transmitted to the doctor for analysis. Similarly, the IoT technology can be leveraged to offer high-quality remote education in high schools across the country," Shailendra Kumar told IANS.
The IoT connectivity also offers a host of development opportunities to untapped areas, including manufacturing and e-commerce to market local and traditional products.
"A host of 'localisation' technologies can help different regions to communicate; so language is not a barrier. Relevant information and updates can be provided in local languages and scripts," the Oracle executive added.
According to K.S. Viswanathan, vice president (industrial initiative) at apex IT body Nasscom (National Association of Software and Services Companies), as IoT emerges as the next big thing to become a $300 billion (roughly Rs. 22,41,307 crores) global industry by 2020, India is all set to capture at least 20 percent market share in the next five years.
"The IoT is dramatically alerting manufacturing, energy, transportation, medical and other industrial sectors worldwide," said Viswanathan while launching the "Nasscom IoT Centre of Excellence" in Coimbatore last week.
Andhra Pradesh has taken a lead when it comes to leveraging the IoT potential in the country. The state government has approved the first-of-its-kind IoT policy with an aim to turn the state into an IoT hub by 2020 and tap 10 percent market share in the country.
"We will develop state-of-the-art IoT infrastructure that matches global standards to grab an Indian market share of $1.5 billion (roughly Rs. 11,205 crores) by 2020," said state IT minister Palle Raghunatha Reddy as the Centre is currently drafting an ambitious policy to create an Indian IoT industry worth $15 billion (roughly Rs. 1,12,051 crores) by 2020.
On the global consumer front, Gartner has forecast that 6.4 billion connected things will be in use worldwide in 2016 – up 30 percent from 2015 – and will reach 20.8 billion by 2020.
As you traverse through these mind-boggling IoT numbers, where does India stand?
"We see that India will have a significant growth in IoT connections in the next four-five years," said Mats Lundquist, chief executive officer at Telenor Connexion, Sweden-based leading enabler of connected business solutions.
Industry numbers indicate that manufacturing will be one of the main IoT drivers in the Asia Pacific (APAC) market and will be the biggest sector in IoT spending.
According to a report from global market research firm Frost & Sullivan, manufacturing contributed 30 percent of the IoT spending in 2014 and it is expected to rise up to 32 percent of total spending in the APAC region by 2020 which equates nearly $79 billion (roughly Rs. 5,90,137 crores).
"Being an emerging market, India has a big potential owing to several initiatives like "Digital India" and "Smart Cities". The next big market (for connected devices) in the world is south Asia and India holds a good position," Apalak Ghosh, principal consultant at market research and consulting firm CyberMedia Research (CMR), told IANS.
"Eventually, south Asia will contribute to about 30-40 percent of the total connected things," Ghosh added.
So where will the real revenue come from – the consumer or the enterprise sector?
"The Digital India initiative has created a strategic roadmap to build and strengthen domain competency and place India on the global IoT map. We believe that the enterprise sector will bolster IoT revenues," elaborated Deep Agarwal, regional sales director (India) of US-based Zebra Technologies that builds tracking technology and solutions.
"To begin with, the revenue will first come from the enterprise sector. As the technology booms, the revenue will start coming from the consumer sector," Ghosh added.
Since IoT is a concept of devices talking to one another, there is a lot of data transfer happening which is vulnerable to cyber threats as well.
"The cloud can work as a catalyst to make IoT work and for that, there has to be a right kind of framework that can assist it. The GRC (governance, risk management and compliance) guidelines can play an important part to make IoT work in a proper manner," Ghosh said.
India is currently a small IoT market but with great potential. "We will definitely see a great development in the country on the IoT front in the coming years," Lundquist pointed out.
For Oracle's Shailendra Kumar, rural India is set to transform itself by taking the technology leap and adopting real-life solutions like IoT.
Download the Gadgets 360 app for Android and iOS to stay up to date with the latest tech news, product reviews, and exclusive deals on the popular mobiles.