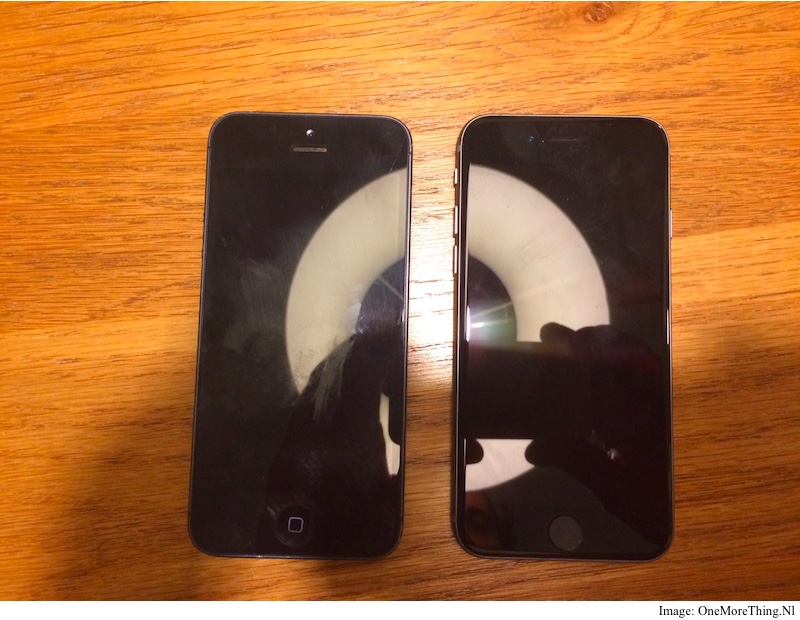 Apple is widely reported to be working on a 4-inch iPhone with rounded edges and many other design elements similar to the iPhone 6s. Thanks to the rumour mill, we may have now have our first look at the forthcoming iPhone, which is now being rumoured to be called the iPhone 5se.
A user has shared an image of what appears to be the rumoured iPhone 5se on One More Thing forum. The image reveals a handset that looks similar to the iPhone 6s, but has a 4-inch display. How do we know it has a 4-inch display? It is kept next to an iPhone 5s. Aside from these changes, however, the image doesn't reveal anything else.
Last week, 9to5Mac reported that Apple's widely rumoured 4-inch iPhone will be called the iPhone 5se, and it will house several features from iPhone 5s, iPhone 6, and iPhone 6s. Some of the reported features include an A8 SoC and M8 coprocessor. The iPhone 5se will be available in Silver, Space Grey, and Rose Gold, as previously seen on the iPhone 6s and iPhone 6s Plus lineup. The report added that the Cupertino-based company could also launch the iPad Air 3 alongside the iPhone 5se at an event in either March or April.
Apple's decision to make another 4-inch iPhone, if that indeed happens, is seen as a move to target users who don't crave a large display. However, a notable analyst believes that the iPhone 5se and iPad Air 3 won't significantly improve the company's revenue.
KGI's Ming-Chi Kuo in a note to investors said that his firm doesn't regard the iPhone 5se as innovative in terms of form factor (though conceding it would be slightly different from the iPhone 5s due to the use of 2.5D glass), nor perceive it to have better hardware specifications. Referencing recent reports about the iPhone 5se's specifications, Kuo said things look unimpressive if keeping the iPhone 6s as a benchmark, adding that "a 12-megapixel camera is higher specification than our expectation of 8-megapixel." Coupled with the price cuts for iPhone 5s, Ming-Chi Kuo believes that the iPhone 5se will see a small number of shipments this year, in between 10-12 million (down from KGI's previous expectations of 18-20 million).
The analyst adds that Apple will sell fewer iPhone models in Q1 2016 due to "lacklustre iPhone 6s sales" and will largely remain same or see slight improvements in the range of 42 to 45 million units. The firm, however, has high hopes from the MacBook lineup. "We see MacBook as a stronger candidate for becoming a theme given solid growth in the business segment, as well as a potential upgrade to hit the market in 1H16."
Download the Gadgets 360 app for Android and iOS to stay up to date with the latest tech news, product reviews, and exclusive deals on the popular mobiles.