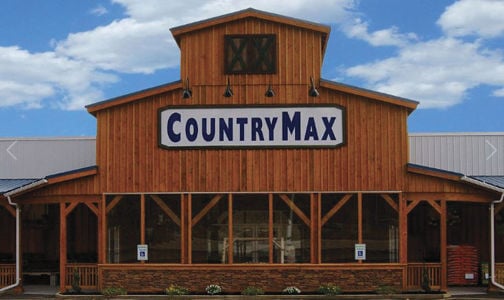 Don Payne has the foresight every successful business owner needs. Entrepreneurs must constantly stay in touch with customers' needs and demands in order to stay relevant, and at the same time stay one step ahead of the competition.
Even so, Payne, CEO of farm- and pet-supply chain CountryMax, acknowledges he has not seen every trend coming down the pike.
"I never would have thought we would be selling blue bags when I got into the pet business 20 years ago," Payne says.
Payne is referring to the plastic waste bags dog owners use to clean up after their pets. For the record, CountryMax sells far more than blue bags. Pet food, toys, treats and health products for nearly every kind of animal one would call a pet are but a few examples of the products under the roof of the gleaming store that looks like a huge barn.
"We're a grocery store for animals," says Payne.
CountryMax also features among its vast inventory equine equipment such as stable supplies and grooming gear, as well as products sold on consignment. Customers can buy farm tools, steel corral gates, electronic fencing supplies, grass, seed, fertilizer and garden tools.
Grew Like a Plant
Payne's father, George, and mother, Avis, founded CountryMax 33 years ago as a small-farm supply and livestock feed store. His parents are now retired and living in Florida, while his two brothers Doug and Tom are involved in the family business. Tom's sons Chris and Nick, and Don's sons Brad, Ethan and Aaron are part of a third generation of Paynes helping to keep CountryMax at the top of its ever evolving game.
The garden center is a seasonal business, but pet foods and supplies are the engine that provides the year-round, long-term revenue stream, Payne says. The family-owned chain of 16 regional stores competes with Big Box businesses and online retailers. It does so, in part, by offering customers a unique in-store experience, Payne says.
"Our stores' architecture has that country feel, like Bass Pro Shops or Cabela's," Payne says. "We sell many of the same products for pets as Amazon, but we provide a different environment."
The company's store in Henrietta features a custom-built, wood-themed interior; climate-controlled pet rooms; a self-service dog wash and a pet boutique.
The company's website, meanwhile, features virtual store tours, as well as hundreds of educational articles providing customers with tips and guidelines for happy, healthy pets and beautiful yards with bountiful gardens.
["Source-oleantimesherald"]