Version 4.3 of the iPad-only Procreate app adds the ability to stretch, warp, and manipulate text within illustrations, plus new layer features and speed improvements.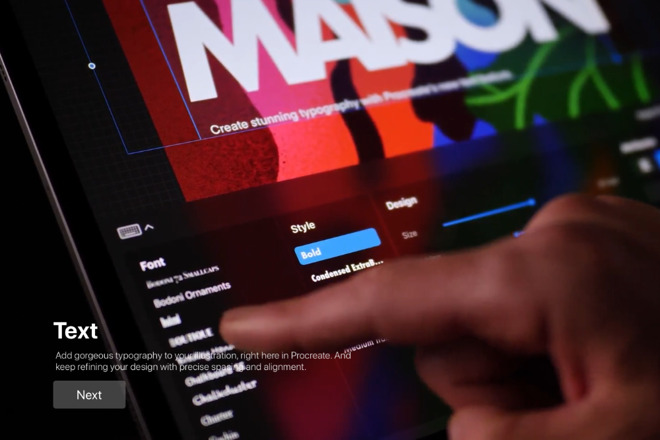 We've been waiting for this. You can now add and adjust type within Procreate 4.3
Illustration app Procreate for iPad has new tools that use Apple's Metal graphics processing engine to allow users to precisely control letterforms within illustrations. Previously, users either had to draw each letter themselves or scan in existing images that featured type.
Procreate 4.3 for iPad now allows you to type into the illustration and to import fonts. "Add gorgeous editable typography to your illustration," says makers Savage Interactive in their App Store release notes. "Refine spacing and alignment with precision sliders, and rasterize the results for total control over the finish."
"Need to create something with a distinctive typeface?" continues the release note. "Easy. Just drag-and-drop your favorite fonts into Procreate and find your perfect type."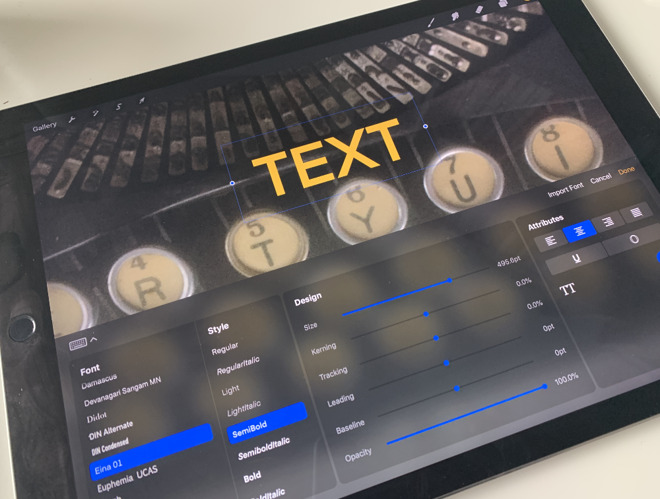 Adding a text layer to an imported photograph in Procreate 4.3
The new update also improves how you can work with layers. There are new layer blend modes, new options for viewing single layers at a time, and also a new export that lets you share layers as a GIF.
Procreate is a vector illustration app. You draw or write as you always would, but you can then adjust and stretch and manipulate the elements of your drawing at will.
The standard for this kind of work on the Mac has long been Adobe Illustrator and Adobe has tried to bring its text manipulation tools to the iPad. Rather than releasing one app to do everything, though, Adobe has offered various elements of Illustrator and Photoshop across 20 different iOS apps such as Adobe Illustrator Draw.
Adobe has committed to bringing the full Photoshop app to iPad and that will include certain typography features. Until it also brings Illustrator, however, Procreate 4.3 is now the best single app for illustration.
Procreate 4.3 for iPad costs $9.99 on the App Store. It requires iOS 12 or later.
["source=appleinsider"]