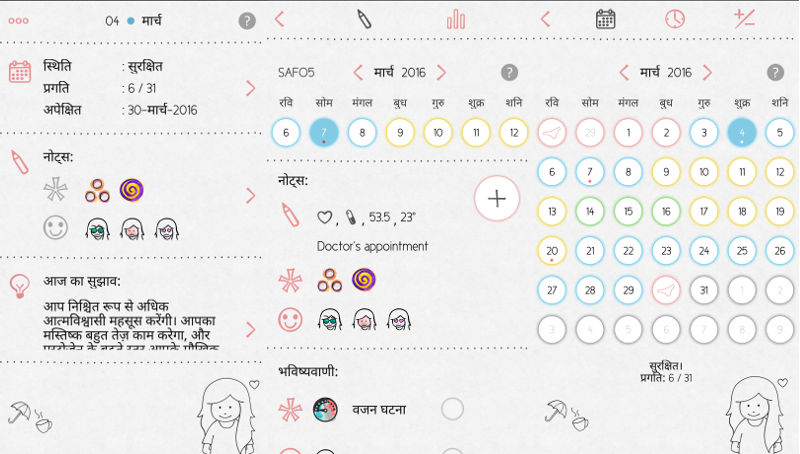 Bengaluru-based Plackal, creators of the menstrual cycle tracking app LoveCycles announced Hindi language support for its app on Tuesday, and disclosed that it has secured Rs. 5 crores from seed-stage investors, Prime Venture Partners.
Launched in 2012, LoveCycles lets women record their monthly cycles, associated symptoms and trace out a pattern to help them manage their menstrual health better. Globally, the tracker supports 13 languages, and plans to add support for six or seven regional languages soon, Jean Paul, Co-Founder of Plackal at the press conference held in Bengaluru.
Following the funding, the formerly bootstrapped startup plans to turn off advertising as a monetisation model, and focus on growth and usage. In terms of India specific features, the startup plans to launch a community feature where women can interact with each other, discuss issues around health, form self-help groups.
"The kind of wavelength that Prime Ventures brings was more important than the size of the deal. Advertising is one of the reasons perhaps why our active user base is smaller than what it should be, because users churn when you irritate them with advertisements. It was a good revenue channel for us to sustain, and keep the lights on without funding." Paul said.
Primarily focused on the western market, with most of its users coming from United States, Brazil, Italy, Mexico South Korea, and Russia, LoveCycle's apps, available on Android, iOS, and Windows Phone, have clocked more than six million downloads across 190 countries worldwide. In our previous interaction, Paul had given Gadgets 360 an account of how a team of six was was able to scale to 1.2 million monthly active users with no marketing spend.
Also read: How Plackal's LoveCycles App Scaled to 6 Million Downloads
"We had to attack a market where there was an immediate need. Hence we went after the foreign geographies. We put a lot of effort into internationalising the app, and that has brought about a lot of organic growth in these regions. We now believe that India is ready for this app," Paul said, adding that the focus for the startup was to grow to five million monthly active users in the next 18 months, log the right kind of data, and make sense of it. A global data set mapping hundreds of millions of data points on women's reproductive health could be immensely beneficial in areas of health and research, he said.
"The broad area of focus for the app is women's health," said Amit Somani, Managing Partner, Prime Venture Partners. "It's not about just menstrual period tracking, even though it is the core value proposition today, but it could be around reproductive health to begin with, it could be conception, contraception, all aspects of a women's health," he said.
Download the Gadgets 360 app for Android and iOS to stay up to date with the latest tech news, product reviews, and exclusive deals on the popular mobiles.