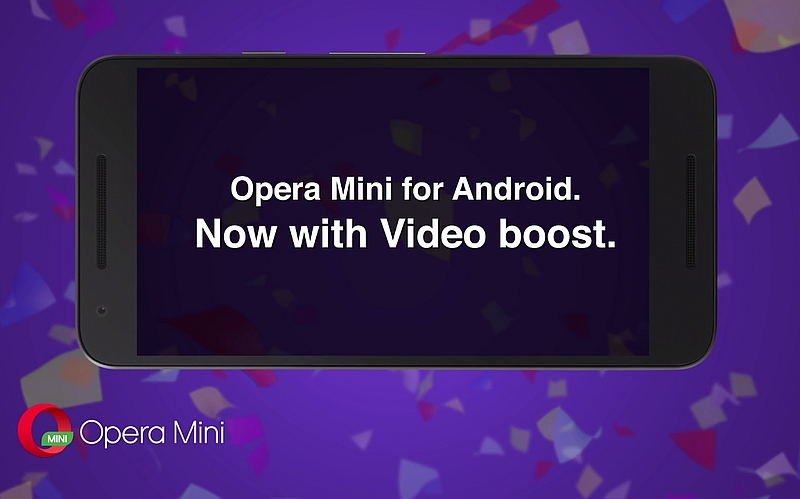 Opera has started rolling out an update for its Opera Mini for Android browser application. The highlight of the update is the new Video Boost feature. As the name suggests, the Video Boost feature would help Opera Mini users "see less of the video-buffering wheel," the company said.
Users after updating to Opera Mini 15 for Android can tap the savings summary to change to high-savings mode under the "O" menu and check the Video Boost box at the bottom. The feature also shows number of videos that have been optimised. Opera said its new feature shrinks the size of the video data to lessen buffering delays. The company also claimed that it was "the first company to integrate video optimisation into a web browser."
Some of the other features included in the latest version of Opera Mini for Android app are 'Save to SD card' feature on handsets with Android 4.4.4 KitKat or higher OS versions, SD-card file access when uploading on the Web, updated high data-savings mode, improved fast scrolling, option to shrink photos before uploading, and automatic status bar colour change. The updated app is available to download from Google Play.
"In India alone, 70 percent of smartphone users stream video on their phones. Unfortunately, this eats up data plans quickly, and stalled videos waste time and create frustration. Opera Mini for Android comes to the rescue with video boost. It works to make the video sizes smaller serving up slimmer mobile videos and keeping data plans in check. If you love to watch videos on your Android device, but hate getting surprises on your data bill, it's time to switch browsers," said Sunil Kamath, Vice President – South Asia & South East Asia at Opera.
Download the Gadgets 360 app for Android and iOS to stay up to date with the latest tech news, product reviews, and exclusive deals on the popular mobiles.