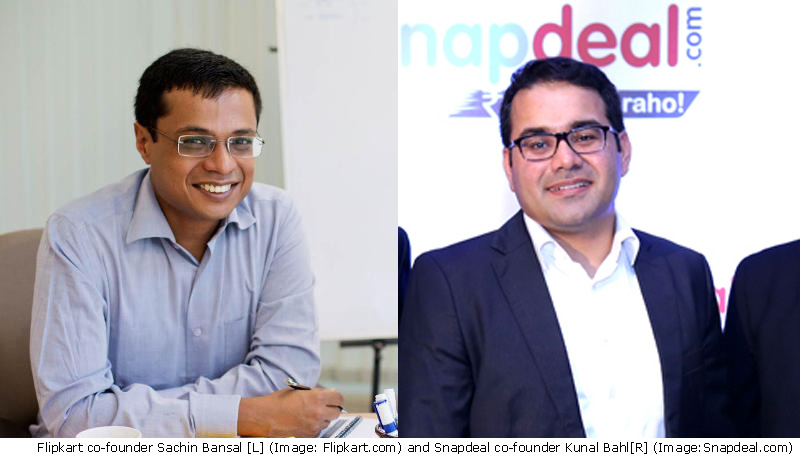 Twitter users on Friday were witness to an ugly sight as CEOs of rival Flipkart and Snapdeal traded barbs on the social network. It all started with a tweet by Flipkart's founder and Executive Chairman, Sachin Bansal. Reacting to news that Chinese giant Alibaba would step up its India operations, Bansaltweeted that Alibaba starting operations in India directly shows how badly their Indian investments have done so far.
That seems innocuous enough, until you realise that Alibaba's investments in India include $500 million in Snapdeal and a large stake in Paytm as well. Snapdeal is a direct competitor of Flipkart's, and whilePaytm is focused on its play for virtual money through its mobile wallet and the upcoming payments bank, it also competes with Flipkart through its e-commerce marketplace.
Snapdeal's CEO Kunal Bahl certainly took it as a slight, and responded on Twitter too. Bahl quoted Bansal's tweet and added: "Didn't Morgan Stanley just flush $5 billion worth market cap in Flipkart down the toilet?" This is a reference to Morgan Stanley reportedly slashing Flipkart's valuation by 25 percent.
The conversation went no further than this, but it certainly seems appalling to see two of the men leading some of India's biggest Internet companies squabbling like schoolboys. Bahl added, "Focus on your business, not commentary." He's right. Perhaps he should have heeded his own advice.
Disclosure: Paytm's parent company One97 is an investor in Gadgets 360.
Download the Gadgets 360 app for Android and iOS to stay up to date with the latest tech news, product reviews, and exclusive deals on the popular mobiles.
["source-Gadgets"]