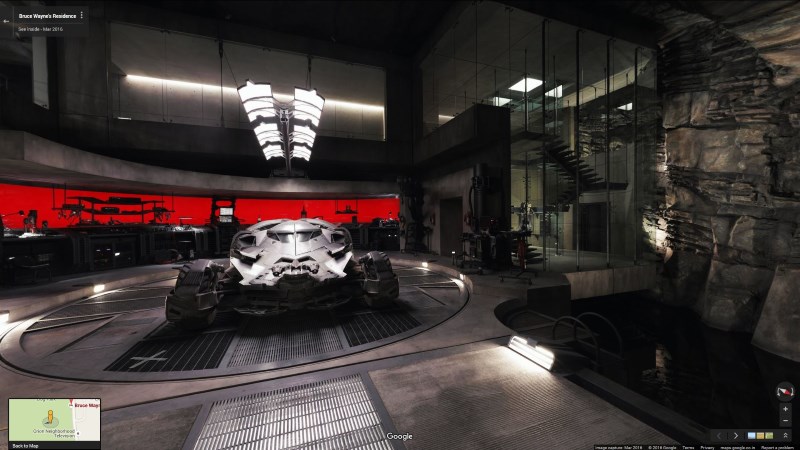 Warner Bros.-DC wish to leave no stone unturned in their quest to launch a franchise rivalling the popularity and financial success of Disney-Marvel with the release of Batman v Superman: Dawn of Justice on Friday, and they have even embedded Bruce Wayne's fictional place of residence into Google Maps to provide audiences with a 360-degree or virtual reality view of the crime-fighting billionaire's home.
What is surprising though is that Wayne does not live anywhere near Gotham – a universal moniker for New York City – but smack-dab in the middle of nowhere, in the suburbs of the US city of Detroit. You can't see the house in aerial view or from the road – because it doesn't exist, duh – but you can choose to jump into the property directly, without any need for voice print analysis or fingerprints.
Note: minor spoilers ahead if you haven't seen the movie.
Once inside, you can look around the living room with all the walls made of glass or jump through the black void to uncover the mysteries within. You will then be treated to an under-lit and dingy tunnel that leads straight to the Batcave, with the Batmobile from the film straight in your path.
You can also tour Robin's suit with Joker's graffiti that Batman keeps around for motivation, or take a look at the six-screen console used by Alfred to assist the Dark Knight in his missions.
Batman v Superman: Dawn of Justice – starring Ben Affleck as the former and Henry Cavill as the latter – might have received middling reviews from critics across the board, but it's been a hit world over during the weekend, earning more than $420 million (roughly Rs. 2,800 crores).
Download the Gadgets 360 app for Android and iOS to stay up to date with the latest tech news, product reviews, and exclusive deals on the popular mobiles.