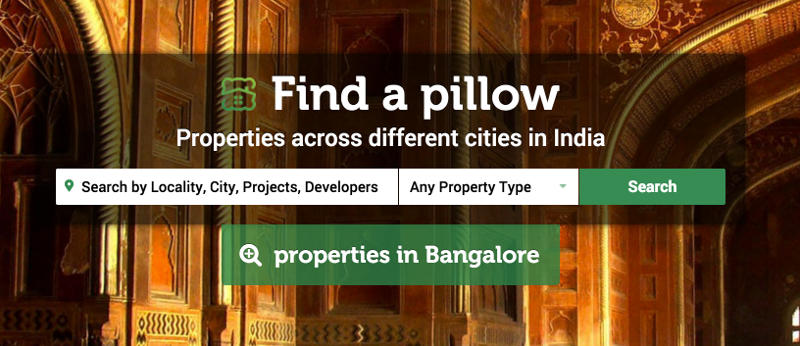 ]
HeyPillow
Online real estate marketplace HeyPillow has raised $3 million (roughly Rs. 20 crores) in Series A funding from Hampton Capital. Co-founded in 2014 by Stan Dong, formerly a research scientist at Stanford University in California, Heypillow reportedly has around 15,000 commercial and residential listings in Bengaluru, Pune, Mumbai, and Delhi-NCR. A search for residential rental inventory in Bengaluru listed 595 results, whereas a search for commercial inventory yielded 2,979 results.
Medinfi
Healthcare discovery app Medinfi, a platform that allows users to search for doctors and healthcare services in their neighbourhood, has reportedly raised an angel round of Rs. 2 crores from a group of investors. Founded in 2014 by Ravi Shankar Mishra, the Bengaluru-based startup covers Delhi-NCR and Mumbai as well with over 3,000 listings on the platform so far. Medinfi's app has clocked less than 5,000 downloads on Google Play.
Medikoe
Bengaluru-based online healthcare platform Medikoe has raised $100,000 (roughly Rs. 66 lakhs) in seed funding from Anil Menon, the CEO of CMS Computers Limited, to fuel its expansion to Mumbai and the Delhi NCR region by the end of 2015. The startup plans expansion to more than 20 cities by the first quarter of 2016. Founded in October 2015 by Sreevalsan Menon and Raman Shukla, the startup aims to cover a network of hospitals, diagnostic centres, pharmacies, and wellness centres, as well as provide integrated deals on healthcare on its platform. Medikoe's mobile app has less than 500 installs on Google Play at the time of filing.
Healers At Home
Home physiotherapy services provider Healers At Home has reportedly raised an undisclosed amount of seed funding from a clutch of angel investors including Fortis Healthcare President Daljit Singh. Founded in 2014 by Kshitij Garg, the Delhi-based startup currently provides home-based yoga and physiotherapy services in the Delhi-NCR region.
Caravan Craft
Bengaluru-based Handicrafts startup Caravan Craft, has reportedly raised a fresh round of funding of Rs. 8.5 crores from existing investor Unitus Seed Fund and others, and raised debt of Rs. 14 crores from National Skill Development Corporation (NSDC). The startup sources its products directly from the artisans and sells it through its retail outlet and online channel.
Download the Gadgets 360 app for Android and iOS to stay up to date with the latest tech news, product reviews, and exclusive deals on the popular mobiles.