What is interior design?
Interior design is defined as, "the art or process of designing the interior decoration of a room or building." While a "process" may include a set of rules or stringent guidelines, the concept of "art" is much more fluid and subjective. Consequently, perceptions of design style can be confusing without a common frame of reference. If a client cannot clearly articulate his or her vision for decorating a residential or commercial space, it presents a great challenge for an interior designer.
Purpose of this home decorating styles glossary
This glossary was created for a number of reasons: Inform – Serve as a comprehensive repository of style definitions; Inspire – Help clients visualize how various rooms and styles can be blended to create a personalized decor theme; Empower – Make it easier for designers and clients to effectively communicate ideas.
What are the most popular interior design styles?
We started with 100 of the most popular interior design styles and we've recently added five more to the list. The guide will continue to grow over time and we welcome suggestions. Each style is explained through a topline description, identification of specific features, examples of signature furniture and lighting pieces, and a photo depicting certain aspects of the home decor style. Feel free to use this list of common design styles as a starting point for your decorating project, and let us know how we can improve it. This resource, like style itself, is always evolving.
Abstract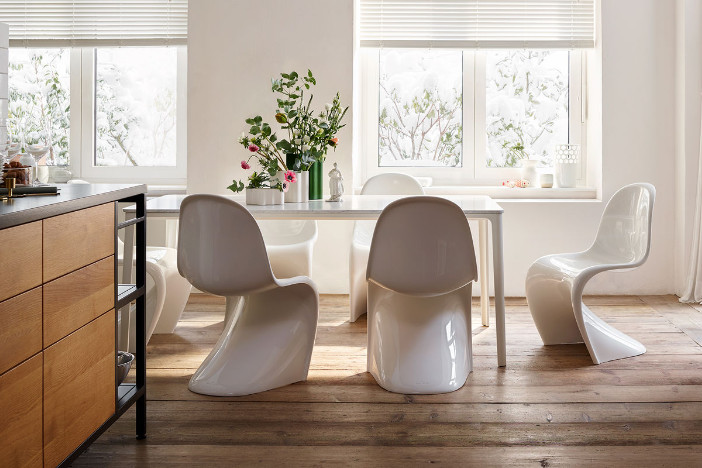 Much like expressionist abstract art, abstract home design focuses on unique architectural elements, such as asymmetrical doorways and home furnishings. It's similar to modern or contemporary design in that it utilizes clean lines, though abstract style also incorporates chaotic aspects to offer a fresh and unique perspective. This type of interior design lends itself to bold colors, such as yellows, blues and oranges. Black is used as a contrasting element to create a striking statement. Tables, chairs and sofas have clean lines, but much like the entirety of the abstract style, these furniture pieces are asymmetrical. Lighting also features simple lines and borrows from a modern aesthetic. You might see a geometric diamond-shaped pendant that casts abstract lighting throughout the interior.
African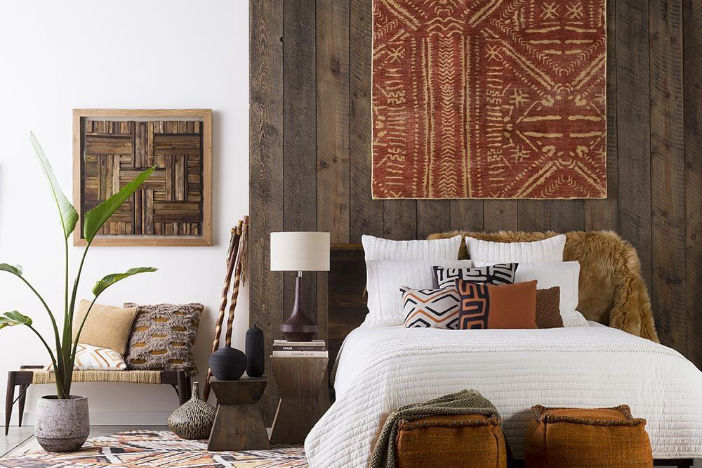 African interior design is inspired by nature and utilizes natural shapes, textures and finishes. This exotic style celebrates the imperfections of hardwoods, reeds and stone in its minimalist handmade furnishings. The palette is typically full of rich warm colors like burgundy, burnt orange and deep brown earth tones with textured soft beige, cream or white painted walls. Floors are often sandstone, terracotta or stained concrete with sisal or jute rugs. Much of African furniture is made from ebony, mahogany or cedar woods, or rattan with patterned ikat fabric, kuba cloth or leather upholstery. Chair seats and backs may also be made from braided grasses. Animal hides like zebra or cheetah are often used to highlight the importance of wildlife in African culture. Triplolina Chairs (a.k.a. butterfly chairs) with decorative mudcloth slings are signature pieces of seating in this aesthetic. Accents include handwoven baskets, bolga fans, carved wooden bowls and ritual masks, stone artifacts and soft-shaped poufs.
American Colonial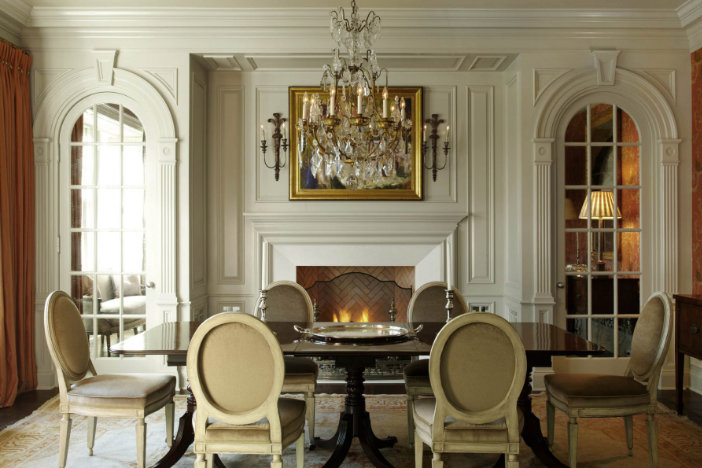 This early American style combines characteristics from traditional and rustic home design, while incorporating historically inspired elements. The aesthetic draws on styles and trends from the 1600s to the 1800s, and often contains subdued muted colors, and vintage finishes like oil-rubbed bronze. Fabrics and wallpaper feature a toile design, which was popular during the colonial era. Furniture is handmade and inspired by the early American frontier. Each table and chair goes through a custom-made process in which intricate carvings and design elements like flourishes are imprinted. Woods typically used to construct furniture includes maple, elm, hickory and cherry. Brass knobs and handles are added to cabinets, drawers and armoires for an added touch of sophistication. Handcrafted brass and copper lanterns, chandeliers and wall sconces give an old world feel to American Colonial interiors.
Amish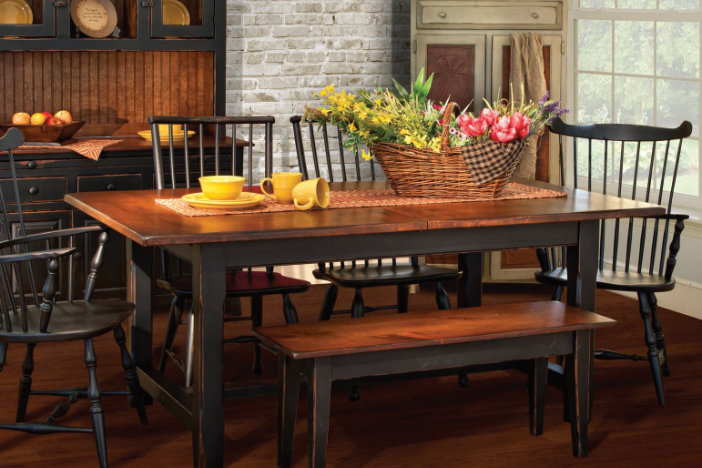 Just like the lifestyle of the Amish people, this home design aesthetic is modest and simple with an emphasis on functionality. Similar to mission and Shaker, Amish furniture relies on the woodworking of craftsmen to build kitchen cabinetry and other utilitarian home features. Homes are often filled with neutral tones, such as grays, blacks, whites and browns. Wood furnishings are used throughout the home, offering a warm contrast to the subdued color palette. Amish furniture is recognizable thanks to unique arched crown molding and overlay doors and drawers. Tables, chairs, sofas and armoires typically feature flared base legs and are made of solid wood like cherry and oak. Gaslight fixtures are popular in Amish homes. Authentic materials such as iron, copper and tin are used to craft pendants and wall sconces.
Arabian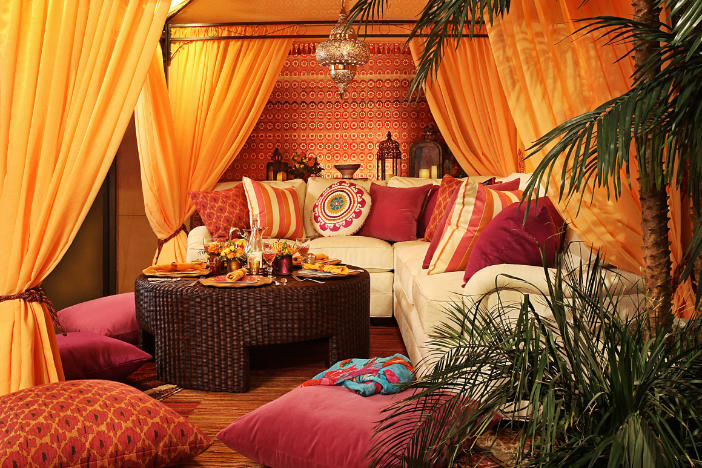 Arabian home design exudes luxury and elegance by combining lush materials, bold colors like turquoise, and ornate patterns. Mixing and matching various textures and materials such as metal light fixtures, velvet couches, wood tables and glass decor, produces a charming and enticing effect in sitting rooms or bedrooms. Mosaic patterns are frequently implemented into area rugs, curtains and wallpaper to create a decorative appearance. Neutrals are the base of Arabian interiors, and ornate colors like gold, silver, turquoise, pink and bronze add personality and whimsy to the space. Set the mood with hanging metallic pendants engraved with an intricate pattern to cast a beautiful pattern onto the walls. Chairs and sofas are upholstered with luxurious materials like silk and velvet. Wood pieces like tables and cabinets are intricately detailed to provide a regal appearance.
Art Deco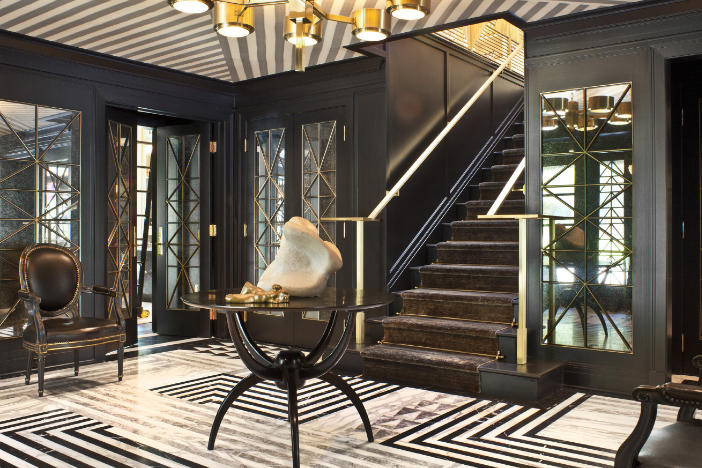 Inspired by French art and design from the 1920s, art deco (short for arts decoratifs) is characterized by sleek, metallic finishes like stainless steel, glass and chrome. Unlike vintage style, which highlights floral patterns, rugs and linens feature graphic prints such as zigzags, sunbursts, animal prints and geometric shapes. Furniture and wall art throughout an art deco-inspired home are defined by jagged, pointed edges. Pieces are also larger – generously sized chairs, armoires, dressers and couches are all typical of the 1920s. Light fixtures are just as structured as the decor and furniture. They're typically made of sleek, shiny materials like polished bronze, chrome or steel. Bold geometric patterns are frequently printed on wall sconces, ceiling mounts and lamps. Other angular designs like chevron and zigzags adorn light fixtures. Great examples of Art Deco architecture can be found in the historic district in Miami Beach, Florida where this whimsical style is embraced by many small hotels built in the mid-1920s to early 1940s [Curtis 1982]. Prominent Art Deco designers include Le Corbusier, Eileen Gray, Rene Lalique, Emile-Jacques Ruhlmann and A.M. Cassandre.
Art Moderne

This mid-century style combines modernity with idealistic minimalism. Unlike angular art deco, art moderne (a.k.a. streamline moderne) designs are tapered, rounded and have a more horizontal emphasis. Frequently, they are adorned with parallel "flow" or "speed" lines [Cogdell 2010]. Art Moderne homes feature an all-white color palette and rely on smooth surfaces with little decorative detailing. Doorways, windows and other architectural elements come with curved corners. Raw, natural textures such as metal, terra cotta tile, concrete and glass are all mixed and matched throughout the home as well. The key to art moderne is simplicity – decorative patterns are scarce. Instead, solid neutrals really help to make a strong statement. Furniture is stripped down and typically emulates a sense of motion with pieces like tiered tables. Chairs and sofas also have rounded edges and use contrasting material colors like black and white. Surfaces are glossy to give the furniture a modern feel. Floor and table lamps are popular light fixtures in the art moderne style. These lamps commonly feature frosted glass and shades are circular and also made of glass. Prominent Art Moderne designers include Raymond Loewy, Paul Frankl, Norman Bel Geddes and Gilbert Rohde
Art Nouveau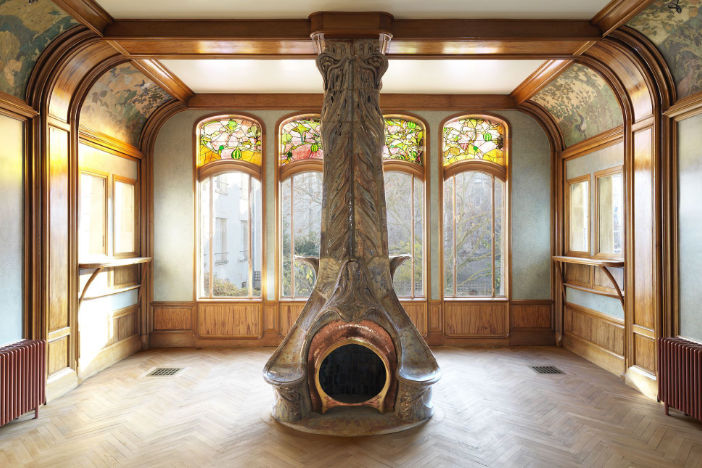 The art nouveau home design style is similar to art deco in that it features decorative detailing combined with contemporary characteristics. However, this aesthetic is defined by flowing lines, rather than strict, geometric shapes. Door and window frames, along with furniture all have elegant curved edges which vary from subtle undulations to exaggerated fantastical contours. Its symbols and motifs are abstracted from organic vegetation and "a repertoire of biomorphic forms; much of its imagery is directly or obliquely feminine" [Banham 1997]. Other common elements of art nouveau design include floral patterns, stained glass windows, oriental rugs and wrought iron light fixtures and staircase railings. Lighting is typically made up of hand-blown glass or semi-precious stones and incorporates natural elements like vines, birds, branches and florals. Prominent Art Nouveau Designers include Hector Guimard, Louis Comfort Tiffany, Louis Majorelle and Carlo Bugatti.
Artisan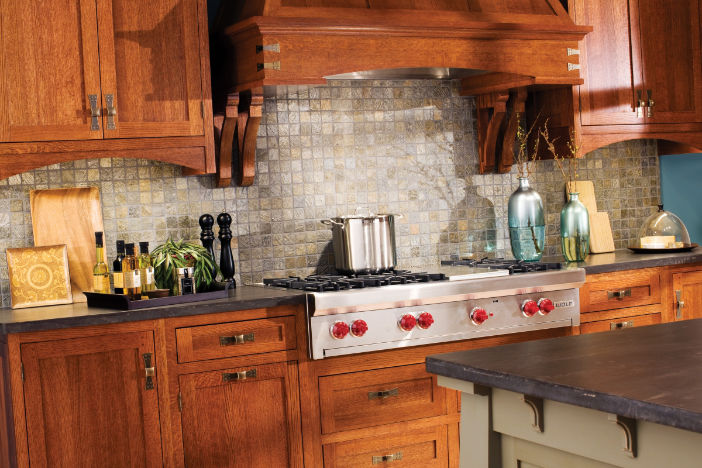 Warm colors, rugged textures and rustic finishes are all included in artisan home design. Materials and finishes are all high quality and embraced for their craftsmanship and detail. Rich wood cabinets, oil-rubbed bronze faucets and hammered surfaces all play a role in creating an artisan home. Rugs and fabrics feature floral and colorfully abstract patterns, similar to what you might find in a traditional style home. Furniture can be characterized by fine workmanship that isn't overly ornate, and typically reflects the identity or ethnicity of the maker. The same idea goes for light fixtures, which are entirely unique. Artisan homes can feature anything from handcrafted pendant chandeliers to a table lamp with a blown glass vase. Since the entire process is done with painstaking care by hand, each piece of furniture of lighting is a near one-of-a-kind.
Arts & Crafts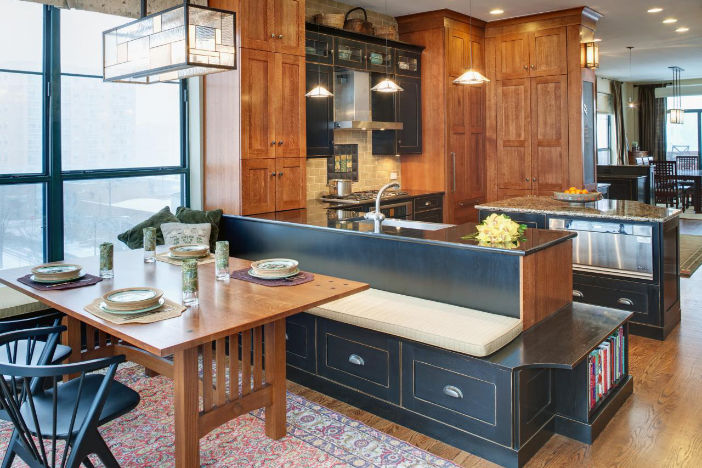 Arts & Crafts home design borrows interior elements from a number of different styles, including art nouveau and artisan. This design movement arose in response to the mass-production of global industrialization. It celebrated the nobility of the traditional craftsman, who imbued each piece with uniqueness and a humanity absent in mechanized production. In contrast to historical revival styles, furniture in the Arts & Crafts aesthetic tend to embrace a more stern, straightforward form [Rodel 2003]. Handcrafted furniture, rich wood trim made of oak or mahogany, along with stained glass and ceramic backsplash tile are all items that make up this interior motif. Imbued with naturalism, this style has a color palette that is typically earth-inspired and include dusty oranges, browns, taupes and sage greens. Another key to Arts & Crafts style is built-in elements. Kitchen cabinets, bookcases, shelving, benches and light fixtures are typically built into the walls in an effort to blend well with the architecture and create unity throughout the home. Lighting is usually made up of warm tones like hammered copper or bronze. Prominent Arts & Crafts designers include William Morris, Gustav Stickley, Charles Robert Ashbee and Richard Barry Parker.
Asian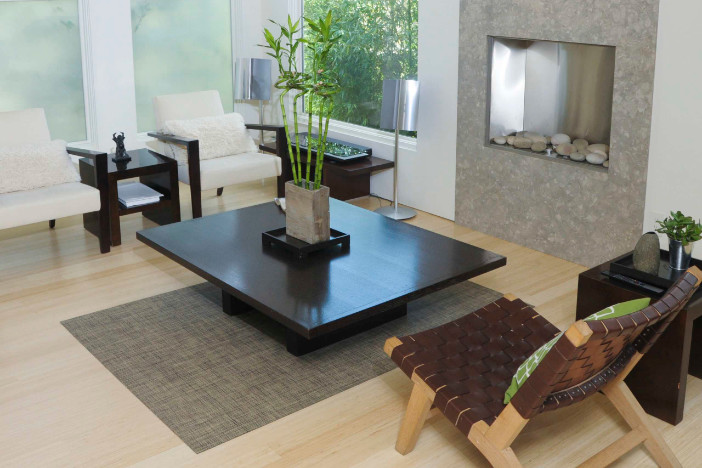 A subset of contemporary style, Asian interiors focus on clean, sleek lines and striking shapes – and often give off a peaceful, serene feel. In Asian-style homes, you'll notice a reference to nature, with rooms containing pebble backsplashes, decorative greenery and stone sinks. There's also an emphasis on natural design elements like wood and concrete tile. Because Asian-inspired homes focus on cleanliness and serenity, multi-purpose furniture is often used to disguise storage, which makes it an effective style for small spaces. Ottomans and benches that open up to reveal space for organization are common in Asian households. Sofas and chairs are adorned with silk pillows in a variety of colors and patterns. Light fixtures are equally as sleek and practical as furniture. Table lamps complete with intricate patterns are the perfect accessory for any room in the home.
Baroque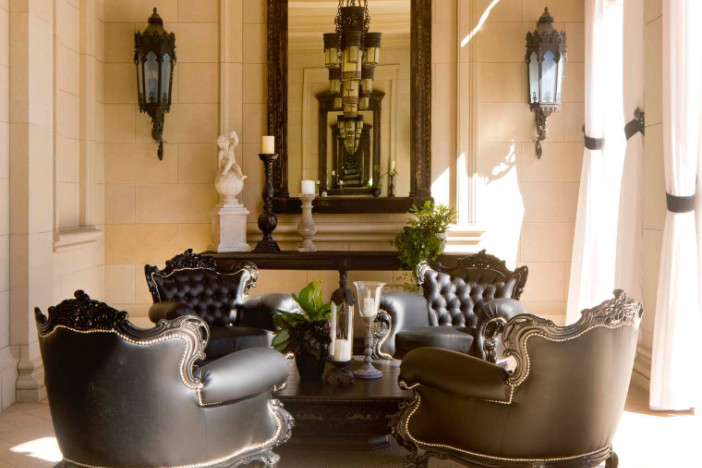 Baroque home design is associated with opulence, grandeur and luxury. Intricately designed furniture, gilded accessories and sleek materials such as marble and granite are characteristic of this European-influenced style. Architecture, decor and furniture are all symmetrical and depictions of shells and garland are frequently used throughout the home. Irregular curves, elaborate scrolls, oversized moldings and twisted columns can be found on pieces such as sofas, dining chairs, tables and cabinets to create a sense of motion. Decorative marriage chests called cassini also incorporated many of these organic details. Candles and lanterns are frequently used light fixtures with this home style. Iron lanterns line the walls of hallways and candles flicker on wood, brass and pewter stands.
Bauhaus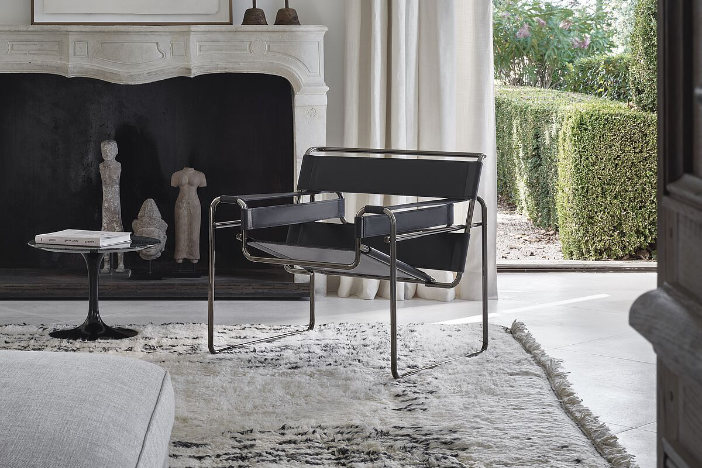 Much like modern design, German-born Bauhaus style puts an emphasis on simplicity that is evoked through clean, sharp lines. Functionality, a key element of this interior motif, was incorporated in concert with an appreciation of biological science. This ecological design was a unification of art and science, with satisfying human needs as the focal point. For example, light fixtures are chosen based on their style as well as how they satisfy the function of a room (i.e. under-cabinet lighting for prep work in the kitchen). You'll see a lot of simple, built-in light fixtures to continue with the sleekness of a room. On the whole, Bauhaus furniture is incredibly flexible in its ability to adapt to the individual, their unique environment and needs. Many furnishings and lighting can be collapsed, folded or adjusted to the specialized requirements of each situation [Droste 2002]. Bauhaus designs are understated and feature smooth lines with a mix of organic materials such as leather, glass and laminated wood. Prominent Bauhaus designers include Walter Gropius, Marcel Breuer, Wilhelm Wagenfeld and Herbert Bayer.
Beach House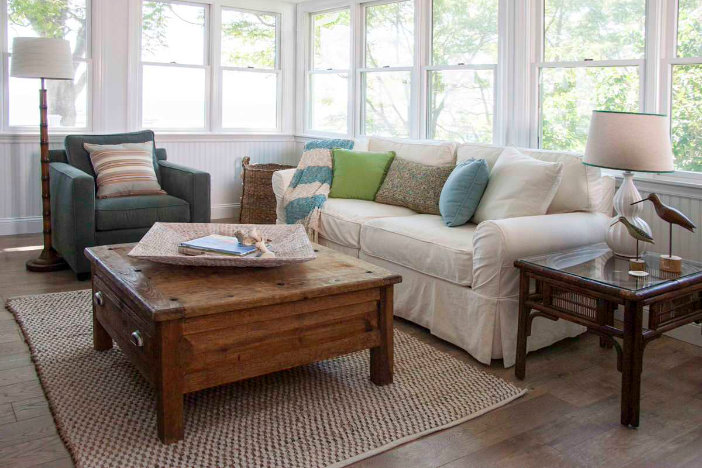 Beach house style evokes a light, airy feel, just like the vibe you would get while sitting with your toes buried in the sand. Color palettes are typically drawn from lively coastal hues found in nature, such as sky blue, beige and crisp white. Bright, sunny shades like coral and turquoise can also be incorporated to give the space personality. Natural materials such as weathered wood and sea glass are commonly found in beach decor. To keep with the airy ambiance, furniture is commonly made up of wicker or distressed wood. Chairs and sofas are upholstered with lightweight materials such as cotton or linen. Light fixtures come with nautical flair – table lamps, for instance, might feature a repurposed buoy or some jute rope as their base. Rustic lanterns made of copper or iron may also be used as wall sconces.
Bohemian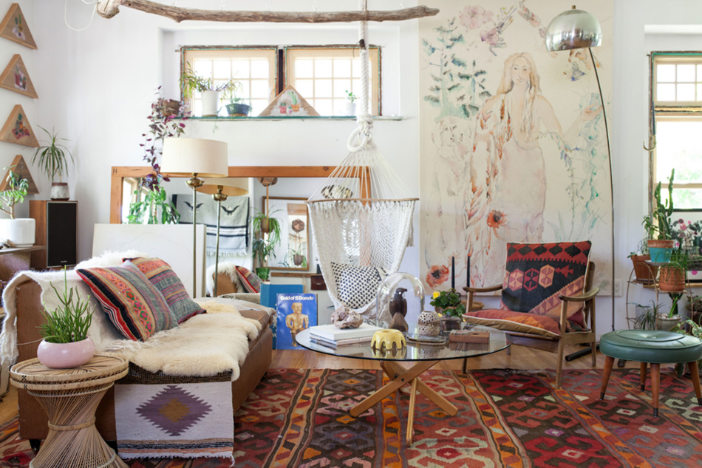 Bohemian-style homes are equipped with a laid-back atmosphere and place an emphasis on nature, intricate patterns and bright colors like purples, reds and pinks. In fact, all of these elements are frequently combined to create an eclectic and unique aesthetic. Boho chic is all about mixing interesting colors, trinkets, fabrics and various types of furniture without any intention of matching or adhering to a specific style, much like the nomadic vagabonds who inspired it. You might see a contemporary couch featuring striped upholstery alongside a vintage velvet ottoman and a bright-colored statement chair. It's the mix of different types of furniture that make Bohemian interiors so versatile. Light fixtures are just as unique as the furniture. Intricately detailed pendants, chandeliers dripping with crystals and table lamps complete with fringe are fixtures common for Bohemian homes.
["source=decoroutdoor"]