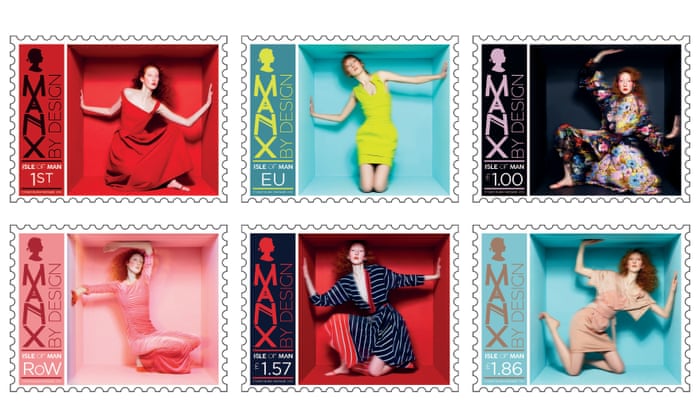 The six-stamp Preen collection celebrating 20 years of the brand has been issued by the Isle of Man. Photograph: Iom Post
Preen, the catwalk label designed by the husband and wife team Justin Thornton and Thea Bregazzi and worn by the Duchess of Cambridge and Gwyneth Paltrow, has launched London fashion week's most affordable collection, with prices starting at just 65p.
However, the bargain buys are the size of a postage stamp – literally. A six-stamp collection celebrating 20 years of the brand has been issued by the Isle of Man, where both Thornton and Bregazzi grew up. The first-class stamp features the red Finella dress worn by the duchess on a royal tour of Canada. The bodycon "Power Dress" that first made the label famous is honoured on another of the stamps.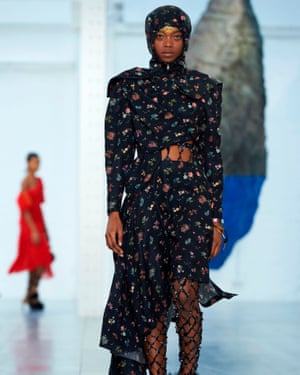 Preen left the supertight bandage dress behind almost a decade ago, and has pioneered the calf-length hemline and looser use of fabric that have come to dominate modern fashion's aesthetic. For their London fashion week show in Covent Garden, lavishly ruched red party dresses fell off one shoulder, and to below the knee. Black silk floral tea dresses were layered over cosy hoodies.
Backstage portraits of South Korea's Jeju islanders in silk florals over wetsuits, with wet hair and fishing tackle, showed off the muses of this collection – a matriarchal community of female divers who the designers hail as "eco-feminists".
"They are incredibly brave freedivers, and I love how they layer functional and pretty together," said Bregazzi. "I don't think men are doing a very good job of looking after the world," added Thornton. Dresses had rows of pearls, and a white blouse with a feather trim to mimic the movement of seaweed underwater.
Rejina Pyo, a rising star of London fashion week, works with a similar covered-up, quirkily detailed silhouette. The Korean-born Pyo, who launched her label four years ago with her husband as commercial director, has built up a loyal following for her eye-catching but wearable pieces. Tailored coats with oversized buttons, sweaters with asymmetric hems and blouses with bows at the shoulder are among the pieces that have made Rejina Pyo one of the fastest growing names sold on Net-a-Porter. Pyo is one of six finalists shortlisted for the BFC/Vogue Designer Fashion Fund, a prize of £200,000 and a year of mentoring.
The catwalk for Pyo's Sunday morning show was the historic Burlington Arcade, which runs parallel to and just a short distance from Bond Street: a marker, perhaps, of where this brand is aiming. A slippery pencil skirt and elegant trousers with extra wide turn-ups accented with buttons were highlights of a winning collection.
["Source-theguardian"]