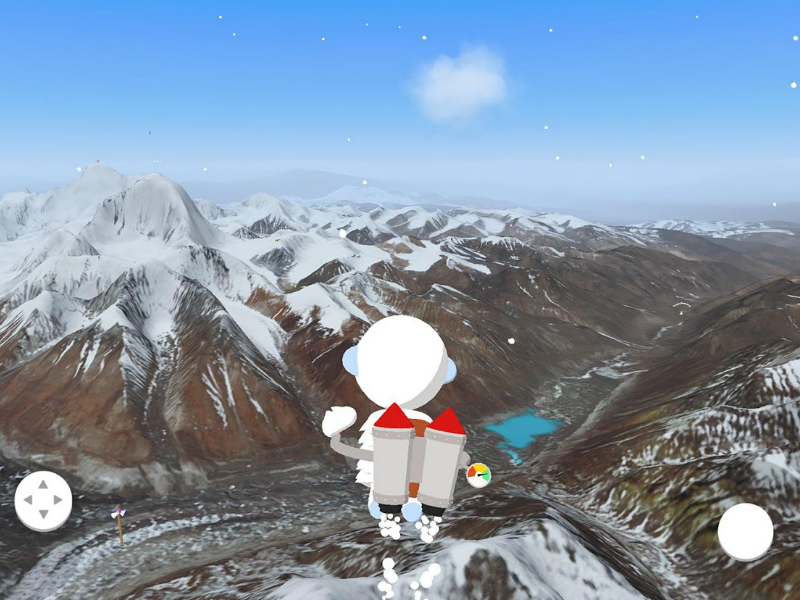 It allows users to visit the Himalayan region
The app is built using Google's 3D Maps imagery
It works only on smartphones running on Android 4.4 KitKat and above
Niantic, when it was a startup within Google, leveraged Google Maps as well as crowdsourced data to build the location-based app Field Trip and augmented reality game Ingress, before being spun off last year. Since then, the company has become a household name thanks to the runaway success of Pokemon Go, another location-based AR game. Now Google, leveraging its 3D mapping data, has launched its own experimental location-based game for children called Verne: The Himalayas.
The game essentially lets users roam about the Himalayas alongside a 500-foot Yeti called Verne. The game is only released for Android users, and is now available on Google Play for free. Built using Google's 3D Maps imagery, the game lets users explore the Himalayas as the character Verne, run atop Mt. Everest, hang glide, ride a jetpack, skate across icy lakes, chase an argali goat, and even bang a gong.
As Verne moves along; famous points, landmarks and regions are highlighted within the app educating users about the geography. Very few get the privilege to explore the Himalayas, and with this app, Google looks to bring that exploration experience to the smartphone in an interactive manner.
In its blog post introducing the game, the Google Maps team said, "For years, Google Maps has been adding 3D imagery from all over the world – New York City, the Grand Canyon, Mont Blanc, and more. A few of us started wondering if this 3D imagery could make learning about the world a bit more fun for kids. We started playing with quick prototypes, and even brainstormed with our own kids to get inspired by their sense of curiosity. Our idea became a new, experimental app called Verne: The Himalayas. [..] We're excited to share it today as a fun way for anyone to take a summer trip to the tallest mountain range in the world."
For now, the game only focuses on visiting the Himalayan region and learning more about it, but we expect Google to release more games highlighting other famous regions across the globe in the future. Verne: The Himalyas app is 213MB in size and works only on smartphones running on Android 4.4 KitKat and above. There is no word on availability for iOS devices.
The Pokemon Go game managed to become an instant success because of its recall value of the famous Pokemon series, and its interactive gameplay. The game was downloaded more than 10 million times within a week of its release in July, becoming the fastest such app to do so.
Share a screenshot and win Samsung smartphones worth Rs. 90,000 by participating in the #BrowseFaster contest.
["Source-Gadgets"]