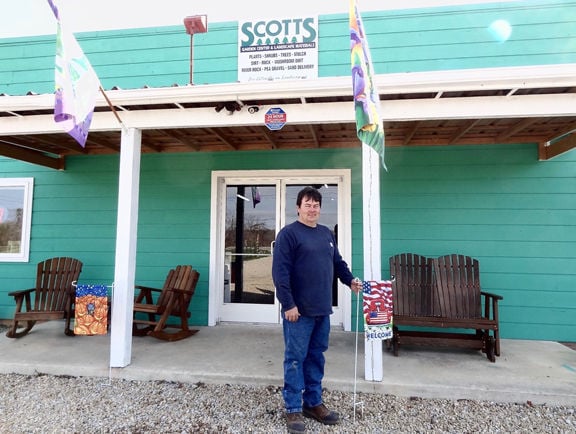 possible from his youthful appearance that he has worked for Uplands Village for 31 years.
Uplands held a youth achievement program, which Parks participated in summers when he was a teenager. In addition, he started cutting lawns and working in neighbors' yards, which naturally segued into his own landscaping business at an early age.
As a full-fledged member of the Uplands maintenance staff, Parks has become certified in electrical, plumbing and HVAC systems services. He also assists the IT manager with technical installations. Besides this full-time occupation, he has provided landscaping services and materials for individuals, churches, and small companies. For many years those skills were administered from his home until he established a small business location on Hwy. 70 west in Pleasant Hill eight years ago. At that time, his wife, Tammy, left her position with the Cumberland Medical Center to manage the facility.
Scott's Garden Center and Landscaping Materials has now moved east on Hwy. 70 into a much larger building with extensive grounds permitting a much greater storage of materials. Grand opening festivities are scheduled for Saturday, April 9, with a ribbon cutting at noon. Tammy Parks is chief purchasing agent and designer and continues managing the expanded Garden Center. She has an artistic eye for the unusually attractive yard ornaments, wind chimes, bird feeders, banners and flags. The building painted a spring green at 8217 Sparta Hwy (Route 70 west) is stocked with garden supplies, gloves, shoes, tools, pottery, flags, poles, plant fertilizers, soil supplements, oil lanterns, lights, seeds, vegetable and flower bedding plants and more.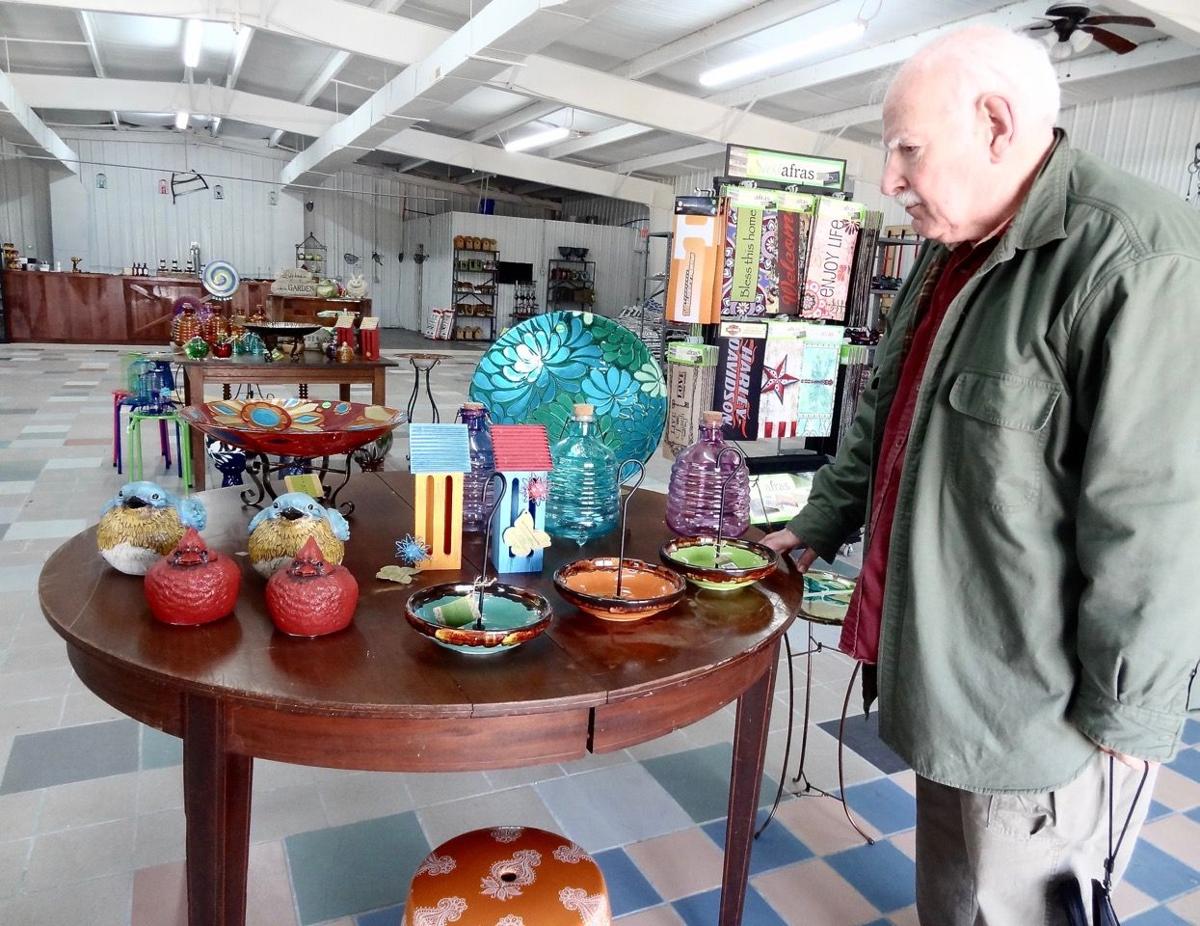 Hours are Monday through Thursday, noon to 5 p.m.; Friday and Saturday, 8 a.m. until 5 p.m. Other staff members and garden crew are Roger Hamric, Steve Parks, Conor Crockett and Raymond Carson. Scottie manages the landscaping crew. Some of the services that can be contracted for through Scott's Garden Center are installing and caring for lawns, tree cutting and pruning, care of gardens, bushes, trees, landscaping and most all outdoor services. Plans are underway for a greenhouse to grow the bedding plants. For now they are purchased locally from several distributers. The Center will carry the well-known Bonnie plants. There is a cooler to keep local fruits and vegetables in season fresh for the customers. Landscaping materials such as mulch, topsoil, manure, pea gravel and peat moss are in large supply on the grounds. Scott's Garden Center plans to acquire bushes and trees from the McMinnville nurseries and carry feed for livestock. Scott can be contacted at 510-6530 or 277-3942. Pleasant Hill is extremely proud to see a local family taking on such an enterprising expansion serving this area of Cumberland and White counties.
This week in Pleasant Hill:
Wednesday, April 6 — 9 a.m. to noon, volunteers prepare for the Trash and Treasure Sale in the Blue Barn off of Lake Rd., behind Uplands Wellness Center. Many needed. This is the last day for donations.
Wednesday, April 6 — 3 p.m., FILM FESTIVAL: DOCUMENTARIES:  "Food, Lifestyle and Sustainability" Room 4 in the PH Community Church – 277-5467 for info.
Thursday, April 7 — 2 to 3 p.m., Erin and Will Siler will provide musical entertainment with guitars and a sing-a-long at Wharton Homes in Dougherty Home.
Friday, April 8 — 9:30 a.m. to 5:30 p.m., Trip to Cheekwood Gardens in Nashville. Call (932) 277-3519 to reserve.
Friday, April 8 — 10 a.m. in Fletcher House Dining Room, The Art Circle Library brings books, audio books, and DVDs.
Friday, April 8 — 10 a.m., Rm 1 of PH Community Church "The Wisdom of Richard Rohr" led by Mark Canfield, Shalom Center for Continuing Education weekly course. Cost $20. To register go to www.shalomcenterpleasanthill.com or call Barbara Everett at 277-3968.
Friday, April 8 — 2 to 3 p.m., Pleasant Hill Community House, AARP/PHCC free Tax Preparation. Appointments necessary – call Corey at 277-3096.
["source-Crossville-chronicle"]