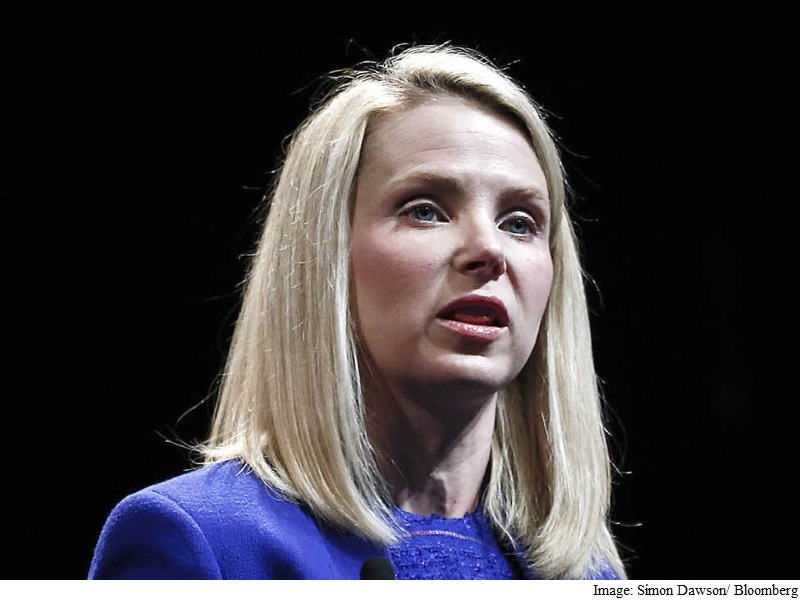 Marissa Mayer is hopeful of keeping her job leading Yahoo Inc. even if the struggling Web pioneer changes hands.
Under pressure from investors and facing a potential proxy fight, the chief executive officer has pledged to do what's best for shareholders as Yahoo reviews alternatives for separating its core Internet business from a stake in Alibaba Group Holding Ltd. There are many viable options for splitting the company, Mayer said during an interview Thursday on the "Charlie Rose Show."
Those included being acquired by a strategic buyer or private equity, along with a reverse-spin to extricate the core Web operations from its Chinese holdings.
"I certainly hope the strategic alternative has a place for me," she said. "But that said, we'll obviously honor our commitments to our shareholders."
Mayer is considering strategic options for the company even as she tries to drive a turnaround with anew plan for sparking growth. Activist investor Starboard Value LP, which has been critical of her efforts to restore growth and boost shareholder returns, has taken initial steps for a potential proxy fight that could recast the board with new directors, people familiar with the matter said last month.
"The primary issue is Yahoo, our technology, the employees, the services, the end-users – how do we get that to the best possible place for Yahoo and find it the best possible future," she said. "I'm secondary to that."
Mayer expressed confidence in the turnaround plan, saying she can see success coming closer though most similar efforts can take five to seven years. Mayer said that, among other options, Yahoo going private may give her the opportunity to drive new recovery plans away from public scrutiny.
The company has said the turnaround includes cutting costs to drive efficiency and invest in more promising opportunities. Yahoo announced Friday it would shut down Livetext, a messaging app, at the end of the month. The service, which was rolled out with fanfare last year, enabled users to communicate via video – without audio – and text. The company will incorporate the "learnings and features" into products including Yahoo Messenger.
Yahoo also said it was closing regional media properties, including the astrology service in countries such as France and India.
© 2016 Bloomberg L.P.
Download the Gadgets 360 app for Android and iOS to stay up to date with the latest tech news, product reviews, and exclusive deals on the popular mobiles.
["source-Gadgets"]