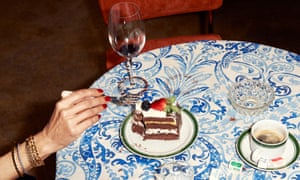 Posting pics of your lunch can be the ultimate social media stereotype, but it's miles one for which theusually cliche-averse fashion industry has fallen tough. Blame Instagram and the limitless filteredpictures of the meals (plateies?) you're about to tuck into. but proper now everyone who reckons they'reevery person is talking approximately food, or posting pix of eggs benedict and chips, despite the fact that the quantity of carbs definitely ingested is negligible.
In designers' frenetic studios, food is plenty extra than fodder for Instagram. whether or not it's a Twix barat the run at Dior or a team lunch at pimples, in its mundanity, the fact of what designers devour is mannermore revealing than the foundation in the back of their S/S sixteen collection.
some, consisting of Stuart Vevers and Henry Holland, are creatures of habit – salmon and broccoli for Vevers; chook, beans and candy potato for Holland. "i have precisely the identical lunch every day. I wearalmost the same issue, too – i have such a lot of other activities, it's first-class not to think about it," Vevers says. "I got the idea from Jenna Lyons. She eats the same element every day for a yr, thenmodifications it."
Rainbow-haired interns and sweatshirted designers congregate over bowls of pumpkin and pomegranate salad
Holland varies matters on Fridays, while the 20-sturdy team at the Hackney studio all have Turkish foodfrom Kuzu Sis on close by nicely road. "It commenced with a person who used to work right here, whocould in no way make a choice about his lunch and we'd all be worried from about 9am," he says. "I oftenneglect, bring my lunch in, and there'll be a bird breast left in my bag all day due to the fact I've had Turkishalternatively."
Famously, Azzedine Alaïa – style's Yoda, a smart, benevolent and deeply gifted presence – cooks couscous for his group of workers. His team all devour together in a vision of healthful fabulousness, with gueststogether with Naomi Campbell and the molto glamorous Roberto Cavalli, who enables out with the cooking (the idea of those two sweating over a boiling stove is valuable). zits, in the meantime, has a loft-like Stockholm studio in which team of workers, ranging from rainbow-haired interns to sweatshirted designers, all congregate over bowls of pumpkin and pomegranate salad.
commercial
Molly Goddard in all likelihood wins the prize for making meals fashionable. For her spring presentation, the young London fashion week dressmaker created a sandwich manufacturing unit, with models in frilledvibrant clothes making use of clingfilm to – of all non-fashion matters – bread. "I desired fashions to have a assignment to lead them to flow and be entertained," Goddard says, "and to do some thing that wasn't quite or twee like flower arranging." perhaps the designer became stimulated with the aid ofconsidered one of the bigger questions to take in her mind space: what's her favourite sandwich? "that is certainly something I consider loads. i'd say fish hands but that's a special occasion. daily, i wouldsay cheese and pickle." The whiff of Branston within the front row can't be a long way away.