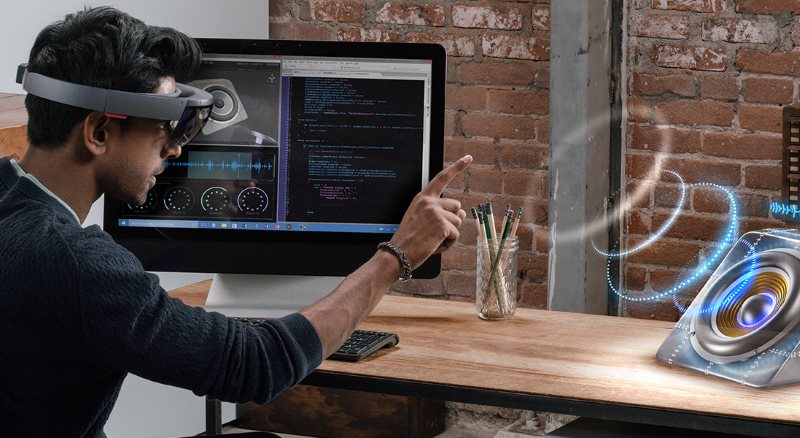 HIGHLIGHTS
HoloLens runs on an Intel Atom processor.
It bears a custom GPU made by Intel as well.
16.5Wh battery will run HoloLens hardware for two hours.
Microsoft provided the hardware specifications for its augmented reality headset, the HoloLens, at the start of March but they were vague on a few aspects which have now been detailed in a report.
(Also see: What Is Magic Leap's Mixed Reality, How Does It Work, and Does It Matter?)
The Development Edition of the Microsoft HoloLens began shipping at the end of March, and the folks over at Windows Central ran system info tool AIDA64 to find out more about the headset. Here is a complete list of what the HoloLens is made of:
OS: Microsoft Windows 10.0.11802.1033 (32-bit)
CPU: Intel Atom x5-Z8100 1.04 GHz; Intel Airmont (14nm); 4 Logical Processors; 64-bit capable
GPU/HPU: HoloLens Graphics
GPU Vendor ID: 8086h (Intel)
Dedicated Video Memory: 114MB
Shared System Memory: 980MB
RAM: 2GB
Storage: 64GB (54.09 GB available)
App Memory Usage Limit: 900MB
Battery: 16.5Wh
Photo camera: 2.4-megapixel (2048×1152 pixels)
Video camera: 1.1-megapixel (1408×792 pixels) at 30fps
There are a couple of interesting facets here, the primary one being the use of a 64-bit Intel Atom processor, while the operating system on-board is 32-bit.
According to the specifications released earlier, Microsoft had mentioned a 2-megapixel photo camera and HD video camera, whose resolutions are 2048×1152 – just above full-HD – and 1408×792 – a notch above HD, respectively. The two cameras will "enable you to record… HD pictures and video of the holograms in the world around you to share with others", which the company terms mixed reality capture (MRC). The 16.5Wh battery should deliver around two hours on full charge, the report suggests.
(Also see: An Upgraded Xbox One Might Just Happen)
The only unknown entity remains the GPU on board, the Intel-made HoloLens Graphics chip, which is probably a factor in its price. But if you're wondering why the other modest specifications amount to $3,000, that's down to a) low scale of production right now and b) the large number of sensors, holographic lenses and "light engines" on board.
Download the Gadgets 360 app for Android and iOS to stay up to date with the latest tech news, product reviews, and exclusive deals on the popular mobiles.