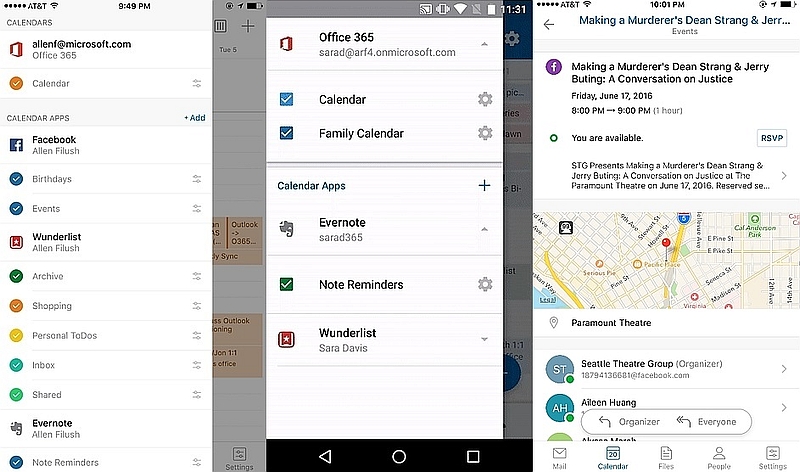 Microsoft on Thursday in its blog post announced that it is integrating Wunderlist, Facebook and Evernote into the Outlook app for Android and iOS, as 'Calendar Apps'. This means that users would now be able to see their notes, Facebook RSVP events, and to-do lists from these apps inside the dedicated Calendar tab in the Outlook email app.
Inside the tab, users can swipe right and tap on the add icon besides the Calendar Apps to connect their Wunderlist, Facebook, and Evernote accounts inside the overflow menu and see all of them at a single place, says the Redmond-based tech giant.
Once connected, user's all Wunderlist to-do tasks will show up in the Outlook calendar app in the All Day section. One can tap on the to-do list to view the details as well. Any extra tinkering with the list will prompt users to open the task directly in the Wunderlist app. Microsoft also points users to the recentlyreleased Wunderlist add-in for users of the new Outlook.com, Outlook 2013/2016, and Outlook on the Web for Office 365.
Similarly, users can connect their Facebook accounts from inside the overflow menu. Once connected, the Outlook calendar will show the events users are invited to or have accepted on Facebook. It would also show their Facebook friend's birthdays. Tapping on a Facebook event inside the calendar section will let them RSVP an event and view its details as well. For any additional information, the page would ask users to directly open the Facebook app.
As for the Evernote service, the Outlook calendar tab will show users reminders they have set in the Evernote app, along with the link to the note. Like the other integrations, any additional changes would fire up the Evernote app.
Microsoft added that the Sunrise team has been responsible for this integration. "Since the Sunrise team joined Outlook, we've been hard at work bringing all the goodness and extra features from their app directly into our calendar to give you a single, powerful app for managing your personal and professional life. Calendar Apps, along with a two-week mini-calendar, three-day view and iOS calendar widget, have already made it to Outlook, with Connected Calendars up next," the blog post adds.
Download the Gadgets 360 app for Android and iOS to stay up to date with the latest tech news, product reviews, and exclusive deals on the popular mobiles.