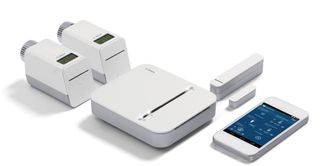 In this week's final edition of the T3 Agenda, we see how Bosch wants to help smarten up your home with its brand new range of products, a new pedestal made of actual marble and more…
Bosch's new smart home range will turn your abode into a digital fortress
With the launch of the Smart Home portfolio in the UK, German electronics firm Bosch is looking to smarten up your home and turn it into an intelligently networked fortress. The new range of products includes indoor and outdoor cameras, an indoor climate monitoring kit and more.
To coincide with the launch, Bosch has conducted its own surveys and reveals new research that more than half of Brits worry about their home security, returning to check the doors are locked and lights are off over 3,000 times in their lifetime. So if you're feeling a little worried in these new times, you could invest in 360-degree Indoor Camera, Eyes Outdoor Camera or a Motion Detector Kit.
In fact, Bosch even offers a Security Starter Kit if the idea of smartening up your home feels a little overwhelming. The set includes a door/window contact, motion detector, smoke alarm and Smart Controller to provide the optimal combination of Bosch Smart Home products for an alarm system.
The range includes the Smart Home controller, Indoor Climate Starter Kit, Radiator Thermostat, Door / Window Contact, Smart Plug, Twinguard Smoke Alarm with Air Quality Sensor, Twinguard Smoke Alarm with Air Quality Sensor Starter Set, 360° Indoor Camera, Eyes Outdoor Camera, Smoke Detector, Motion Detector and Security Starter Kit.
Source"indianexpress"]