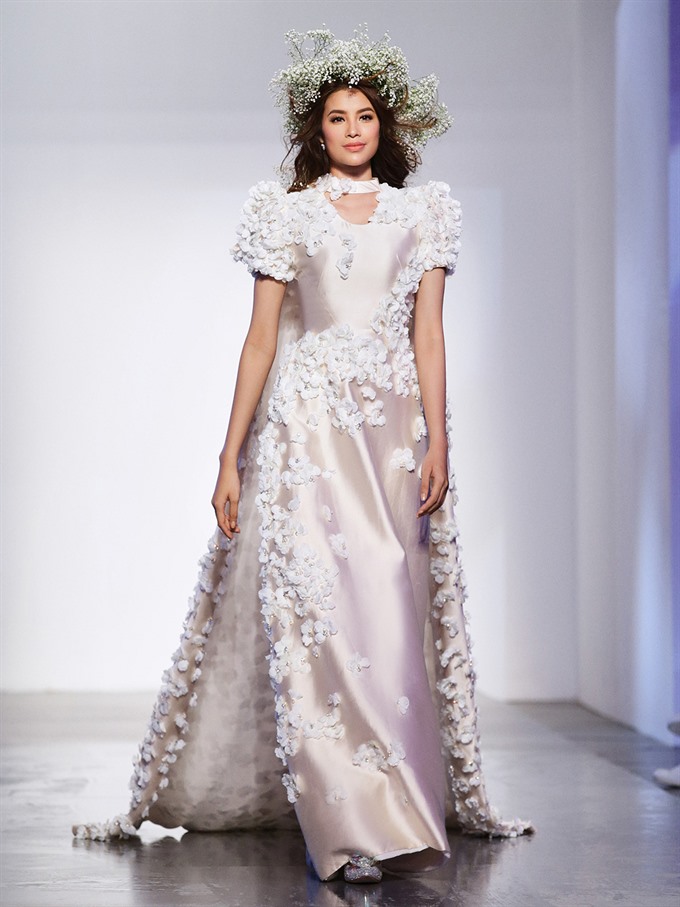 Still bejeweled: Miss Universe Vietnam 2015 Phạm Hương performs on the catwalk in a silk dress embroidered with thousands of crystals from the Phương My – Pre-A-Couture Spring/Summer 2018 collection, shown at Arab Fashion Week in Dubai. Photo courtesy of PHUONG MY
Viet Nam News
Trần Phương My is fast establishing a reputation as an emerging international designer with luxury designs that are elegant, modern and feminine.  
by Phương Mai
Designer Phương My's great inspiration for her brand PHUONG MY stems from the traditional characteristics of the Asian woman: feminine and delicate but bold as well.
Known for their luxury materials, printed patterns and specific shapes, her designs are especially suited for women in Asia.
"All of the fabrics I design are made overseas based on my pattern designs," said the 30-year-old.
The majority of fabrics are produced in Hong Kong, while the materials for eveningwear and runway dresses are imported from Milan and Paris.
The combination of luxury materials, excellent craftsmanship and modern and chic silhouettes has made PHUONG MY popular in Europe, Asia, and, especially, the Middle East.
In mid-November, My's latest collection, the Pre-A-Couture Spring/Summer 2018,  inspired from falling flower petals, was introduced at the fifth Arab Fashion Week at the City Walk place in Dubai.
Around 30 silk dresses in pink and white embroidered with crystals were worn by Miss Universe Vietnam 2015 Phạm Hương and international models on the catwalk.
"This collection marks the five-year anniversary of PHUONG MY. It is an introduction to my new line: ready to wear couture," said My, who is a graduate of the Academy of Art University in San Francisco.
"Each dress was made very carefully," she added.
For the collection, My used fabrics made by famous textile factory overseas and thousands of sparkling crystals customised for PHUONG MY by Swarovski.
image: http://image.vietnamnews.vn//uploadvnnews/Article/2018/1/30/IMG_926140714938PM.jpg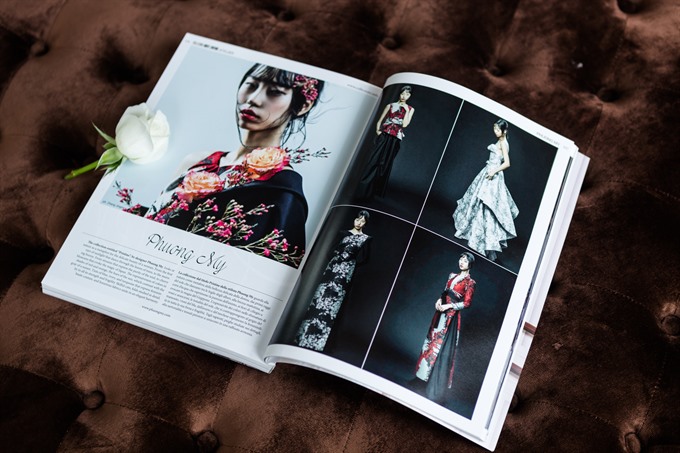 Cosmopolitan: Phương My's Spring/Summer 2017 collection appears in the 165th issue of Collezioni Haute Couture & Sposa, an Italian magazine featuring haute couture collections by international brands like Chanel, Ellie Saab and Giambattista Valli. Photo courtesy of PHUONG MY
More than 70 artisans from famous fashion studios that make designs for international brands such as Ellie Saab took 500-700 hours to hand-embroider 10,000-40,000 crystals to each dress.
Tùng Lê, public relations manager of the PHUONG MY brand, said: "The collection was welcomed by guests, celebrities and royal members attending the Arab fashion week."
"We also received praise via phone and email as well as good comments on Facebook," he added. "The vision of PHUONG MY is to share the beauty of the modern Asian woman with the entire fashion world."
Rising star
My began her design career after winning top prizes at two prestigious contests, Are You Runway Ready in New York City and the Discarded to Divine Project in San Francisco in 2010.
She was later invited to take part in fashion events like Macy's Fashion Night Out in San Francisco in the same year, Elle Vietnam 1-Year Anniversary Fashion Show and New York Fashion Week Event sponsored by Astonish magazine in 2011, and Harper's Bazaar Vietnam 1-Year Anniversary Fashion Event in 2012.
She has also worked as a stylist for key fashion magazines in Việt Nam such as Elle, Harper's Bazaar and Vogue, and in different fields such as branding to prepare for her own business.
In 2013, My returned to her hometown to launch her PHUONG MY brand.
Her first collection, Spring/Summer 2013, featured dresses, shorts, shirts and jackets made of organza silk imported from Milan and Paris.
These designs were displayed at her first flagship store on Lê Thánh Tôn Street in District 1 and received a warm welcome from customers.
The success of the collection brought My an invitation to be the guest designer for the Bvlgari Store opening in Hà Nội in March 2013.
At home and abroad, the designer has participated in many fashion events, including Việt Nam International Fashion Week, Mercedes Benz Asia Fashion Week in Malaysia, and Perth Fashion Festival in Australia.
To expand the visibility of her brand, she has collaborated with dozens of boutiques stores in Europe and Middle East such as My Beautiful Dressing in Paris and NASS Boutique in Kuwait.
Her career and designs are featured in American and European magazines like Club Magazine Venezuela, British Vogue and Vogue Italia.
image: http://image.vietnamnews.vn//uploadvnnews/Article/2018/1/30/IMGP1545v390714901PM.jpg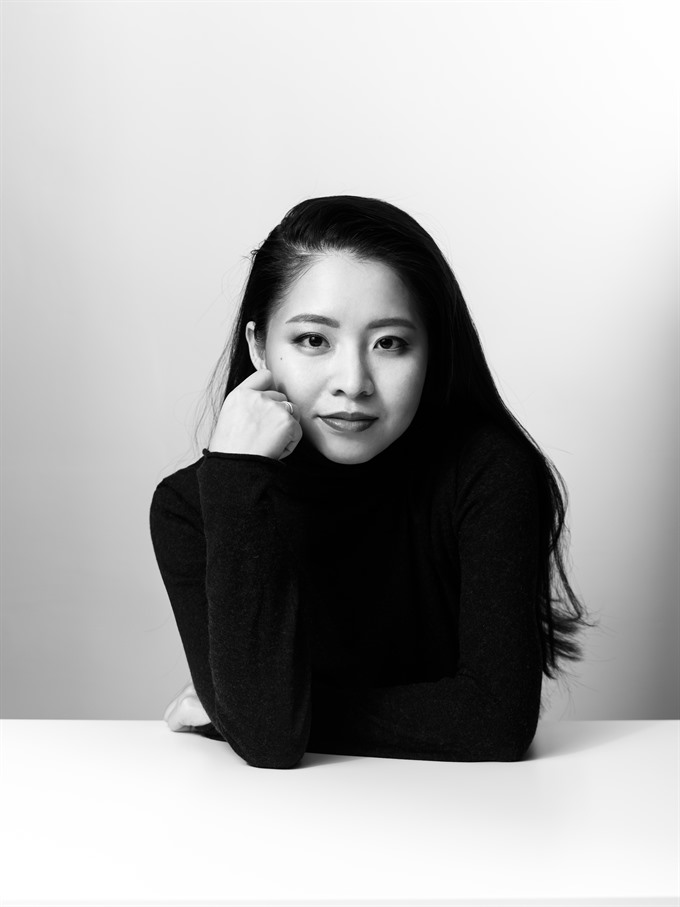 World famous: Young fashion designer Trần Phương My's designs for the Asian woman have become known on the global fashion scene. Photo courtesy of PHUONG MY
In 2015, My was included on the "30 Under 30" list by Forbes Vietnam magazine in recognition of her achievements in the fashion industry.
"For my fashion company, designing takes only one per cent of the time, while the rest is for business, accounting, human resources management, imaging and branding," she said.
"But, my most wonderful moments are the time I spend for designing, because that is my passion," she added.
Each year, My works diligently to introduce seasonal collections.
All of her collections have been shown in Paris and at local and international fashion events.
In 2016, My made waves with her Spring/Summer 2017 collection titled "Pristine", which wrapped up the Việt Nam International Fashion Week Fall Winter 2016 in Hà Nội.
The collection was inspired by Japanese culture. Its theme colours were white, red, grey, blue and turquoise which highlight the delicate beauty of women.
The dresses in the collection were chosen by dozens of international celebrities to wear on the red carpet, including American actress Susan Kelechi Watson at the 49th Annual NAACP Image Awards in Los Angeles on January 15 and the American singer/songwriter Julia Michaels at the American Music Awards 2017 in November.
The same designs were also chosen for a magazine photo shoot with American supermodel Angela Lindvall for the premiere issue of Gio magazine, published online at https://giojournal.com/ on January 31.
My's Spring/Summer 2017 collection was also published in the 165th issue of Collezioni Haute Couture & Sposa, an Italian magazine featuring haute couture collections by international brands like Chanel, Ellie Saab, and Giambattista Valli.
Apart from seasonal collections, My has introduced limited collections on special occasions such as the Red Collection for Lunar New Year and the Rain Collection for the rainy season in tropical regions, which have been popular with clients.
"This was influenced by my clients. They're my ladies," My said. "The most important thing in launching a brand is to learn who my ladies are, what they like and what they need in their lives."
My now has 30 stores in nearly 20 countries, including France, Italy, China, South Korea, Dubai, Kuwait and the United Arab Emirates. The Middle East is her major market, making up 70 per cent of sales.
Her future plans are to expand her brand and open more stores
"My success doesn't come from doing something new, but learning about my weaknesses every day. My motto is to find ways to overcome them," My said. "Continuing to practice and practice will bring you success."
She said that she was proud of her "amazing staff" who, for the last five years, have helped her build PHUONG MY into a successful and high-quality brand.
MYMY brand
Besides the PHUONG MY brand, designer My launched her second line MYMY to appeal to more clients in 2015 and opened her first MYMY store at the Takashimaya Shopping Centre in Singapore in July of that year.
image: http://image.vietnamnews.vn//uploadvnnews/Article/2018/1/26/My469453959PM.jpg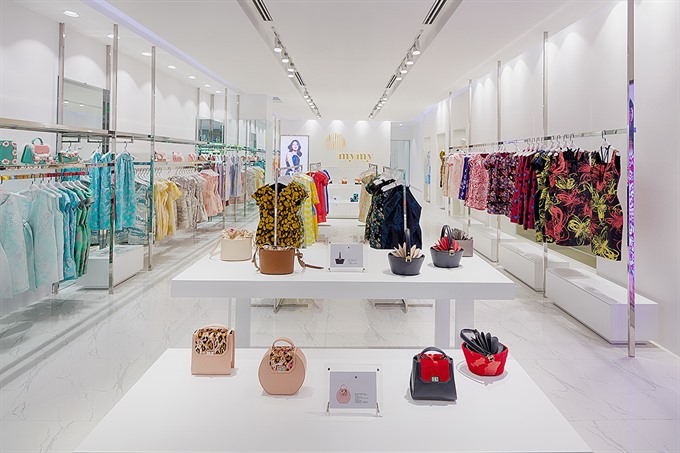 Hip: MYMY by Phuong My, a line for young and dynamic people, has become popular with Vietnamese women. Photo courtesy of PHUONG MY
image: http://image.vietnamnews.vn//uploadvnnews/Article/2018/1/26/My52453959PM.jpg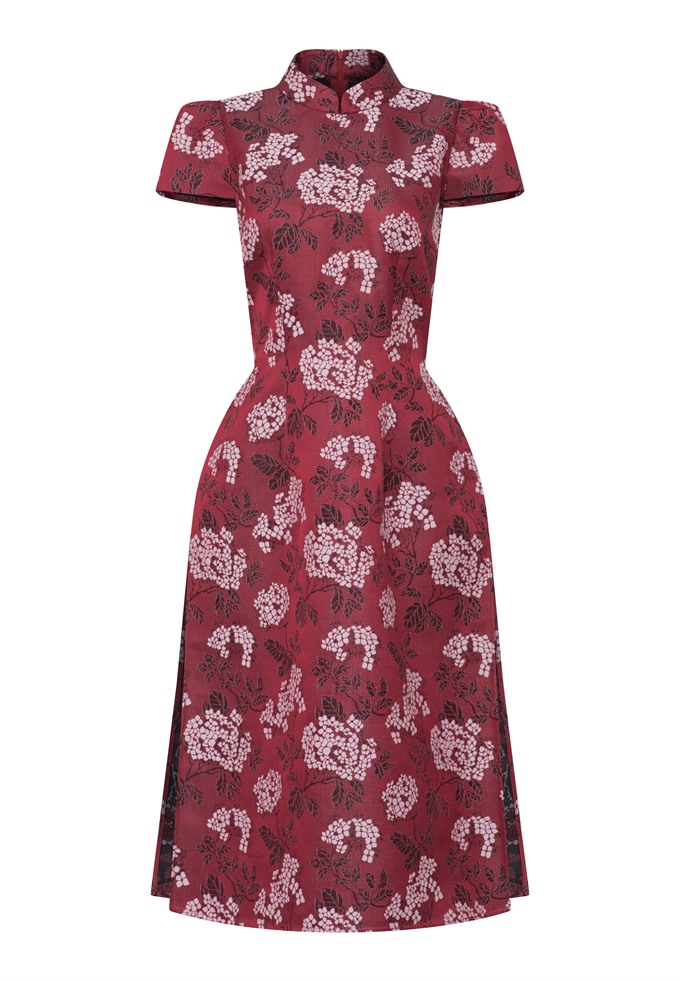 Customary: The designer My introduces two special áo dài (Vietnamese traditional dress) designs to celebrate Lunar New Year. Photo courtesy of PHUONG MY
"While PHUONG MY aims for experienced, successful and wealthy people in Việt Nam, MYMY is for young and dynamic people," My said.
All designs for MYMY are suited for travelling and all the fabrics, which do not need ironing, are made overseas.
Each month, My offers 25-30 designs in dresses, blouses and jackets and ensures that each design is unique, from fabrics to cuts.
With their luxury materials, chic silhouettes and reasonable prices, ranging from VNĐ2-5 million (US$88-220), MYMY has become more and more popular among young Vietnamese women.
Đào Thị Bích Thủy, who works at a bank in Đồng Nai Province's Biên Hòa City, said: "I love Phương My's designs because of their elegant and feminine looks for  women."
The 31-year-old mother said she heard about the MYMY brand through Facebook and found that its designs were beautiful and luxurious, and not very expensive.
"I believe young women are more than happy to pay for eye-catching pieces," Thủy said.
The Facebook page of MYMY, where My introduces new designs and finds new clients, has attracted nearly 40,000 likes.
Clients can visit the six MYMY stores in HCM City and Hà Nội, and one in Singapore, which sell designs for women and children, and accessories.
Designer My has introduced two special áo dài (Vietnamese traditional dress) designs for MYMY with a limited quantity at all her stores to celebrate the upcoming Lunar New Year. Elegant designs in red and turquoise with 3D details are expected to sell well for the traditional festival. VNS
["Source-vietnamnews"]