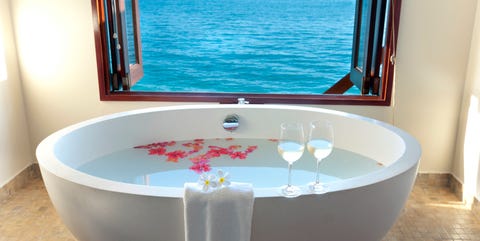 For many, N-O-P-E is the only answer to exercising in the summertime, when heat can make your effort feel extra laborious. While that's an A+ excuse to spend the season on your butt (you do you!), research recently published in the Journal of Strength & Conditioning Research suggests bathing can help your body cope with crazy heat (and help you keep any fitness goals on track).
In the researchers' small but thorough study, which involved eight men and just one woman, nine runners completed a 5K run in 90-degree conditions on four separate occasions: once without prepping at all; once after dunking their arms in cold water while wearing cooling vests and underwear to pre-cool their bodies; once after five days of biking for 90 minutes in 99-degree conditions to acclimate their bodies to the heat; and once after combining both heating and cooling approaches.
Interestingly, the group ran the speediest — 6.5 percent faster than without prepping at all — after several days of acclimating to the heat by biking in it. They ran slightly faster times after pre-cooling, alone, and saw no major improvements to their heat-acclimated times when they combined heating and cooling treatments.
Although the study didn't examine why heat acclimation appears to benefit the body more than pre-cooling, one resounding theory is that over time, exposure to heat can teach the body to adapt more efficiently by sweating more and earlier, which keeps the body cool. This alleviates stress on the heart, which is otherwise tasked with sending extra blood to the skin to cool, a process that can impair blood flow to the muscles and ultimately affect your performance.
The best part of these findings: Researchers aren't suggesting you bike in unbearable heat for an hour and a half a day to prep for your next outdoor workout — a good thing, since that sounds so torturous that no one in their right mind would do it.
Rather, lead study author Carl James, a senior physiologist at the National Institute of Sport in Malaysia, told the New York Times that you can achieve similar results from soaking in a hot bath for 30 minutes after your 30-minute run. In theory, this post-run treatment could help you cope better the next time you head out. And in practice? It's the perfect way to make you feel like the queen you are for exercising in the first place. You deserve it!
["source-cosmopolitan"]