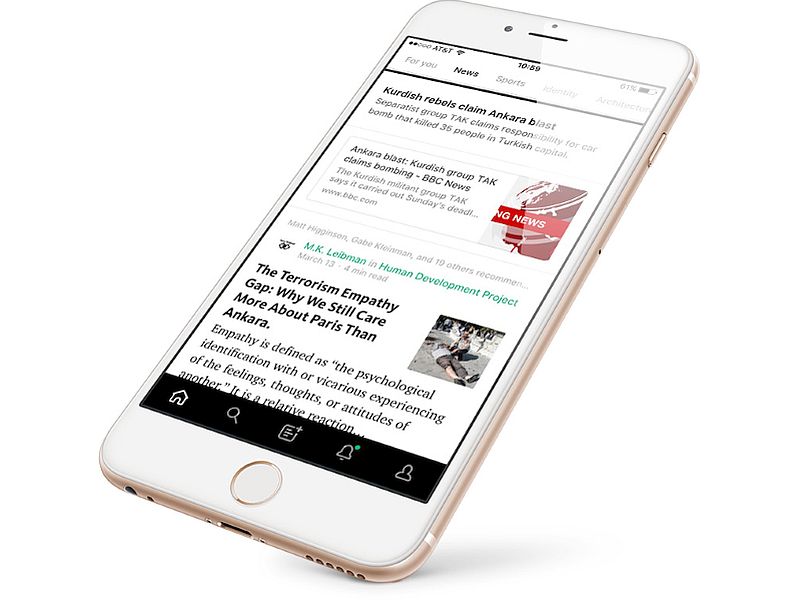 Medium, the popular online publishing platform founded in 2012 by Twitter co-founder Evan Williams, is making efforts to attract more publishers to its platform. Medium on Tuesday announced that it will roll out new branding tools that will allow publications to customise colour, layout, and navigation starting this week.
In an attempt to attract more publishers, Medium announced a new bundle of features, Medium for Publishers, which has been designed to give more tools and horsepower to publishers and bloggers across the Web.
"On Medium, publishers have full control over their content and spend exactly zero time, money, or effort on tech and hosting, instead focusing their resources on producing great content and reaching new audiences," said the publishing platform in a blog post.
The company also announced several brand-new publications that are "migrating their existing content over to Medium" including the likes of The Awl, Pacific Standard, Electric Literature, Franklin Leonard's The Black List, Femsplain, FilmSchoolRejects, The Bold Italic, Monday Note, NewCo Shift, The Banana Boat (by The Infatuation), MEL, Above Average, and The Kicker.
Medium added that Time's Money and Fortune Medium-native offshoots, The Hairpin, Women and Hollywood, Go Into the Story (by Scott Myers), War Is Boring, and The Evergreen Review are also on their way to Medium.
Medium also announced a new solution to make it easier to migrate existing blogs and websites to its publishing platform. "We've built an easy solution that allows you to move your archives to your custom domain on Medium without having to start from scratch. And, of course, we preserve timestamps and links," notes Medium. The platform also added that it will soon launch compatibility support for Facebook Instant Articles and Google Accelerated Mobile Pages (AMP).
Apart from welcoming new publishers and announcing some new tools, Medium revealed two new ways that publishers can opt in to earn revenue on the platform. Medium will be adding Promoted Stories that will appear to readers at the end of a Medium post.
The company will be also starting a revenue beta component – Membership. Medium says that select publishers on Medium will offer readers members-only content and other perks in exchange for a monthly membership fee paid directly to the publication.
Download the Gadgets 360 app for Android and iOS to stay up to date with the latest tech news, product reviews, and exclusive deals on the popular mobiles.