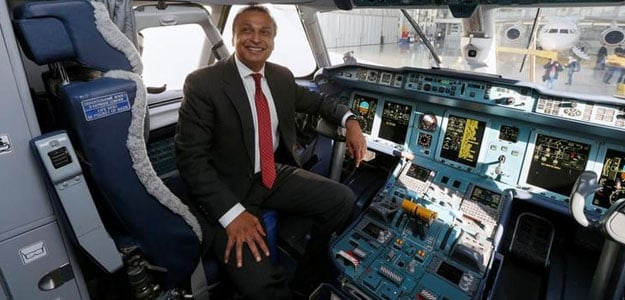 HIGHLIGHTS
Anil Ambani's Reliance aspires to be big defence manufacturer
It has bid for government contracts for Rs 84,000 crore
Reliance expects naval part of its business to take off first
New Delhi/Mumbai
: Anil Ambani's Reliance Group has never made a military helicopter, missile system or submarine in its history but that isn't stopping the tycoon from seeking to win contracts to manufacture all of that military hardware and more.
Known for taking some ambitious bets over the past decade, some of which have failed to deliver, Mr Ambani's plans to turn Reliance into a major defence company may be one of his boldest yet. It has already bid for Rs 84,000 crore in government contracts, senior executives said, though it hasn't yet won any of those.
The success of the strategy will depend partly on whether he can persuade government officials and international partners that he can build sophisticated equipment and partly on whether Prime Minister Narendra Modi can get India's notoriously slow procurement process to work.
Mr Ambani has said that lack of experience is being held against his company. "Despite a committed reformist mindset at the top, we are still seeing opportunities being denied to new players on grounds of lack of experience," he told a 'Make in India' summit on defence in March.
PM Modi has made defence a big part of his "Make in India" programme. As part of any defence contract, he is demanding foreign companies tie up with a local partner, transfer technology and move some manufacturing to India.
At stake is $250 billion in defence contracts the government is expected to award over the next 10 years as it looks to upgrade the military's aging equipment. "We hope to have a significant share of this pie," said R K Dhingra, chief executive of Reliance Defence.
Reliance's ambition is greeted with scepticism by many in the defence world. A military official involved in defence procurement said Reliance is overreaching in wanting to make everything from ships to planes.
"There is no quick money in this branch," said Jan Widerstrom, head of Saab India Technologies, a unit of Saab AB. "It requires a lot of experience, high tech culture, investments and a long-term business plan."
Still, Saab and Reliance are working together in developing the next generation Combat Management System for the Indian Navy and Coast Guard.
Recently, Reliance's lack of experience and questions about its ability to handle sensitive technology and intellectual property counted against it in its bid to partner with the Russians to build 200 Kamov helicopters, said a Russian diplomat in New Delhi, who declined to be identified in this story because they weren't speaking in an official capacity.
The contract, estimated to be worth a little over $900 million, went instead to the state-run company Hindustan Aeronautics Ltd.
Mr Ambani entered the defence sector last year, when he took a controlling stake in a company that made warships and energy exploration vessels in Gujarat, called Pipavav Defence and Offshore Engineering Co Ltd, for about Rs 2,000 crore.
That became Reliance Defence and Engineering Ltd. Since then, Reliance has bought hundreds of acres of additional land to build an aerospace facility and another shipyard in other parts of the country.
It has also signed more than half a dozen joint venture agreements with foreign companies, including one with Rafael Advanced Defence Systems of Israel, to bid for Indian government contracts as they come up.
An Israeli defence industry source said for Rafael the idea is that if it wins tenders, Reliance will produce some components for missiles and other systems.
Thanks to its Pipavav shipyard, Reliance expects the naval part of its business to be the first to take off, he said. It plans to bid for a $7.5 billion submarine contract that the government is expected to give out to replace the navy's ageing and accident-prone fleet and narrow the gap with rival China's rapidly modernizing fleet.
Mr Ambani also has plans to bid for contracts in the future to make nuclear-powered submarines.
["Source-Gadgets"]