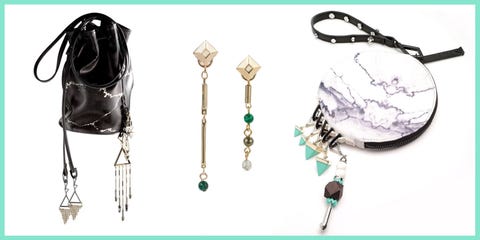 Most designer collabs are little more than reissues of old designs using lower-cost materials, but Target's next big launch with accessories designer Eddie Borgo comes with a DIY element that sets it apart from previous collaborations.
In addition to bags and jewelry reminiscent of past offerings in Borgo's main collection, the Target collaboration includes home decor and mix-and-match charms to allow consumers to create a custom look of their very own, all for under $50.
"A lot of these charms could be keychains," Borgo told Vogue. "They could be added to an existing bag. There's a lot of ways to make it your own. … There's this spirit that's in the air for us, of 'Maker Culture'; people wanting to customize things themselves, infuse things with their own personal sense of style, really bring their own design sensibility to what they do."
The same spirit of self-expression extends to the jewelry collection, where necklaces have been designed to utilize the same charms as the bags, and stud and bar earrings will be sold in mismatched packs of six.
"We're encouraging her if she has multiple piercings to wear the earrings all in combination together, to mix her metals together," said Eddie.
Our new designer partnership is a first ever: it's @EddieBorgo, styled by you. Mark your calendars for July 12. #EddieBorgoforTarget #TargetStyle Check out the link in our profile for all the details.A video posted by Target Style (@targetstyle) on May 20, 2015 at 3:18am PDT
The collection should hit Target stores July 12, so mark your calendars and get ready to get crafty!
["source-cosmopolitan"]