ot prepared to settle with only being the co-founder of one of the 21st century's most disruptive startups at the age of 35, Airbnb's Joe Gebbia has taken on a new challenge: designing office furniture.
FastCompany reports Gebbia has partnered with Amercian furniture designer Bernhardt Design to launch a range of modular office furniture called Neighborhood — a 42-piece collection of lightweight cushioned office furniture that can be easily rearranged and snapped together in different configurations. Each piece of furniture is also sound-absorbent.
Gebbia studied industrial and graphic design prior to co-founding Airbnb and launched Airbnb's design and innovation lab last year to expand the company's scope beyond property bookings and hospitality.
Since its launch in 2008, Airbnb has gained a userbase of over 150 million and is reportedly projecting profits to exceed $US3 billion ($4 billion) by 2020.
The drive to return to furniture design and production stemmed from Airbnb's rapid growth. Gebbia told FastCompany the company's constant expansion meant its offices were constantly being rearranged and reorganised, leading Gebbia to form the idea for the Neighborhood modular furniture.
View image on Twitter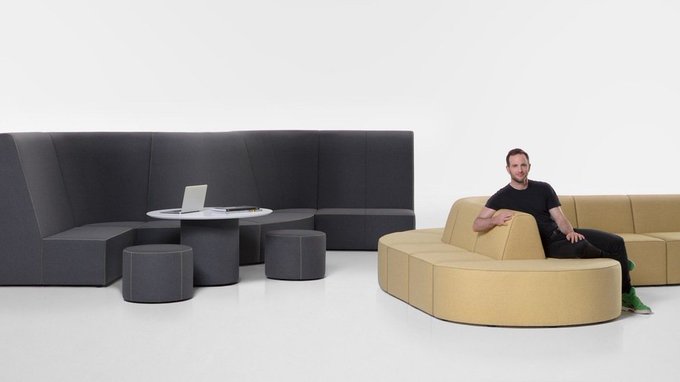 Archlectic Design

@Archlectic

Airbnb's Designing Furniture Now — And It's Modular
Twitter Ads info & Privacy
"I've been working every day out of the [Airbnb] offices for over nine years now," Gebbia said.
"I have a firsthand perspective on companies that want to be fluid — have flexible IT systems, work from the cloud, use cordless devices — with nothing tethering you to a desk. We haven't adapted furniture to the new fluidity of how companies work."
"As the nature of an organization changes it should never be held back by the furniture that you use."
All of the money earned from the Neighborhood range will be donated to Gebbia's design school's scholarship fund.
[Source"timesofindia"]