Paul Manafort may be about to become the most infamous Airbnb host in America. The former chair of the Trump campaign was charged – along with his "right-hand man" Rick Gates – with conspiring against the United States, money laundering and acting as unregistered agents of a foreign power, according to an indictment unsealed on Monday.
The millions they made as part of the alleged scheme helped pay for a glitzy portfolio of properties that the government intends to seize if the charges stick.
The pair surrendered to US authorities on Monday as part of an investigation by Robert Mueller, the special counsel leading a broad investigation into Russian interference in the 2016 election.
According to the indictment, Manafort illegally lobbied on behalf of the former Ukrainian president Victor Yanukovych and used hidden offshore cash to buy the properties. He rented out one – a condominium in New York's SoHo – on Airbnb, while falsely claiming it was the residence of his daughter and son-in-law.
The 31-page indictment paints a detailed picture of a relatively simple fraud scheme to turn Ukrainian money into American property, which Manafort then mortgaged to access millions in ready US cash.
Using his firm Davis Manafort International (DMI), Manafort and Gates "funneled millions of dollars in payments into foreign nominee companies and bank accounts" in Cyprus, Saint Vincent, the Grenadines and the Seychelles. The existence of these companies was hidden and not disclosed to the tax authorities.
Manafort and Gates also concealed their work as agents for Ukraine and its political parties.
Manafort used the funds to "enjoy a lavish lifestyle in the United States, without paying taxes on that income". Hundreds of thousands were wired to a Virginia rug merchant and a New York clothing store, for example. About $20,000 went to his New York housekeepers and $164,740 went to a Hamptons-based landscaper.
Manafort spent millions on luxury goods and services for himself and his family, buying multi-million dollar properties and obtaining loans on those properties to use as spending money.
He defrauded the institutions that loaned money on the properties so that they would lend him money at more favorable rates, according to the indictment.
More than $75m flowed through the offshore accounts; Manafort used $18m to buy property, goods and services in the US. Gates moved $3m in cash from offshore accounts to other accounts he controlled. In the process, the pair "repeatedly provided false information to financial bookkeepers, tax accountants, and legal counsel, among others".
It is illegal to lobby on behalf of a foreign principal in the US without registering the affiliation. Anyone doing so must disclose, under oath, the name of the foreign principal, payments and the measures that have undertaken.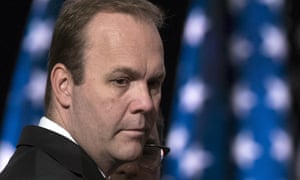 Manafort and Gates engaged two Washington DC firms (called Company A and Company B in the indictment) to lobby on Yanukovych's behalf. While the pair maintained they were the clients of the companies and not in the driving seat, in 2012 Gates asked the firms to prepare an assessment of their work so "Paul" could brief the "president" – presumably Yankukovych – "on what Ukraine has done well and what it can do better as we move into 2013."
About $4m was used from the pair's offshore accounts to pay for a report on the propriety of imprisoning Yanukovych's presidential rival, Yulia Tymoshenko.
Yet Manafort and Gates have claimed that "at no time did our firm or members provide any direct lobbying support" to Yanukovych or his supporters, according to the indictment.
In 2016, after numerous press reports about Manafort's work on behalf of Ukraine, the department of justice sought to determine if the pair and their company had indeed acted as agents of a foreign principle without registering the fact, in contravention of the Foreign Agents Registration Act (FARA).
In letters approved by Manafort and Gates, the company said DMI's activities "did not include meetings or outreach in the US" and the pair "did not recall meeting with or conducting outreach to US government officials or US media" on the issues.
But Mueller alleges the pair not only selected Company A and B but also provided weekly scheduled calls with them to direct "specific lobbying steps". According to the indictment, they communicated directly with Yanukovych about their progress and with US officials in connection with this work and paid the firms more than $2m from their offshore accounts.
The indictment further alleges that this work made a fortune for the pair and was paid into secret offshore accounts.
In order to bring the cash back home, Manafort turned to the residential property market, the indictment charges.
In 2012, Manafort, through a vehicle called MC Soho Holdings owned by him and his family, bought a condominium on Howard Street in SoHo for some $2.85m. The money came from accounts Manafort controlled in Cyprus. The apartment was listed on Airbnb and similar sites for thousands of dollars a week, and Manafort claimed tax breaks on the property.
In 2015, Manafort applied for a mortgage on the property. Banks will offer larger loans on owner-occupied properties, so Manafort "falsely represented to the bank" that the property was a secondary home used by his daughter and son-in-law, the indictment states.
"Remember, he [the banker] believes that you and [Manafort's daughter] are living there," Manafort wrote to his son-in-law in January of 2016, according to the indictment.
Gates allegedly assisted in the scheme by creating a document that listed the SoHo apartment as the couple's secondary home. In March 2016, Manafort received a $5m loan for $3.18m on the property.
In 2012, Manafort bought a brownstone on Union Street in Carroll Gardens, Brooklyn, for $3m in cash. That money, too, came from Cyprus accounts. In late 2015 and early 2016 he applied for a "construction loan", saying he would use $1.4m to improve the property.
Instead, the indictment alleges, Manafort told his tax preparer he was using the cash to pay off another mortgage and used hundreds of thousands of dollars from the loan to make a down payment on another property in California.
If convicted, US authorities will seek to claim both of the New York City properties and two more: a 10-bed, six bathroom $7.8 property in Water Mill, New York, a hamlet of the ritzy seaside town of Southampton on Long Island; and a $1.6m four bedroom home in the waterside Washington DC commuter town of Arlington, Virginia.
Soutrce:-.theguardian.